The creamy cheesy delicious Cheddar Broccoli Soup Keto is made so easy and quick, good for vegetarians! Try at home!
Today I'm going to make something easy and quick! Guess! Guess!   Ok, I give you a clue, it is a soup which is keto-friendly and you definitely love that!   I think you know that what I say to try, okay, no more suspense, it's none other than keto creamy cheddar broccoli soup.
This yummy and incredible low carb and keto-friendly cheesy soup with broccoli is a perfect choice for dinner or lunch with a side salad or try making these greek pasta salad or cucumber Caprese salad or any fig cracker cookies or biscuit.
This creamy cheddar broccoli soup keto is the best and delicious ultimate comfort food without the extra carbs! Roll down and see the preparation and make at home!
How to make Keto Broccoli Cheese Soup Low Carb Recipe:
Keto Broccoli Cheese Soup is loaded with fresh green broccoli and creamy cheese plus low carb! And the best part is broccoli cheddar soup keto-friendly and so simple and easy. Enjoy Keto Broccoli Cheese Soup Recipe without any guilt.
Simultaneously in a pot or pan or saucepan, add butter or oil, onion, celery, salt, and pepper. Cook over medium heat until the onions are well cooked or turn into brown and soft.
Add broccoli and cook for 3-4 minutes until the broccoli will turn into soft and roasted color. Then add xanthan gum in it and stir gently. Add in the chicken broth and combine, add heavy whipping cream and cheese. Stir until soup thickens. Ready to serve!
IS BROCCOLI CHEDDAR SOUP KETO-FRIENDLY & LOW CARB?
Check here.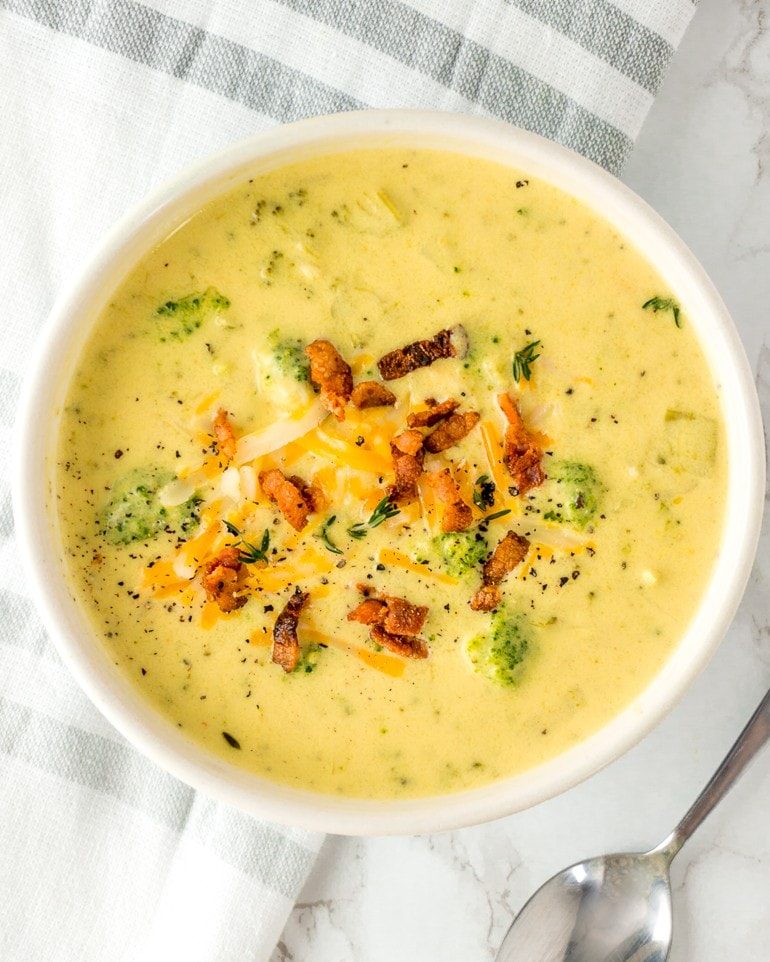 You like these more Keto Recipes!
Creamy Cheddar Broccoli Soup Keto Friendly Recipe
The cheddar broccoli soup is the best keto-friendly dish for dinner, lunch, or as snacks with some bread, crackers biscuit, or some light salad. This recipe of soup is good to cook easy and quick also low carb.
Ingredients  
2

cup

Broccoli

diced (small)

8

tbsp

Butter

16

oz

Cheddar Cheese

shredded or grated

½

cup

Onion

diced

½

cup

Celery

diced

3

cup

Chicken Broth

optional

1

cup

Cream

(heavy whipped cream)

1

tbsp

Salt

1

tbsp

Black Pepper

powder

3-4

clove

Garlic

minced or finely chopped

½

tbsp

Paprika Powder

optional

1

tbsp

Cornflour

or Xanthan Gum
Instructions 
Wash the broccoli under water and cut into small pieces, separating the florets from the stalks. You can be chopped roughly the stalks if you want.

Heat the pan or put the saucepan with butter on a medium flame. If you put the flame on high, your butter will burn.

Add chopped onion and fry this well. When you see the onion turns into light brown, then add salt, pepper, garlic, and saute them a little until you get a nice flavor from it.

Now add the chopped broccoli and stir gently until this broccoli is soft and light green. Sprinkle xanthan gum or cornflour on top of butter and onion.

Now add chicken broth. You can also use water instead of this broth. Mix these well and cook for 5 minutes with the lid covered.

For more seasoning, sprinkle with paprika, combine well and cook for another minute. (It's totally optional)

Let the mixture come to a boil and then simmer for a few minutes. Combine well and add more pepper and salt if necessary. If the soup is going to be too thick, you can add some water or broth.

Now add the cream and cheese, start whisking gently and cook until the cheese is melted perfectly. Keep in mind that the flame is must be in medium.

Serve hot and garnished with some shredded cheddar cheese or add more green broccoli on top.
Notes
If you do not like or don't like the use of xanthan gum, transfer 1 cup of soup from an instant pot to a food processor and mix until thick. Transfer the blended mixture back to the Instant Pot and stir until well blended. Mainly, this xanthan gum used for thickening agents and stabilizers to prevent ingredients from separating.
Rest of soup, after cool transfer to an airtight container or a jar. Keep the soup in the fridge and you can store it for about 3-4 days.
---
Recipe Tips:
You can add some garlic. Onions and garlic blend very well together and this low-carb broccoli cheese soup smells of celestial acoustic.
You can find xanthan gum in your local grocery stores baking section.
The extra cheese on the top of the soup is really so good and you are ready to enjoy the creamy of broccoli soup keto. Some people like the cream cheese or cheddar cheese topping over the soup while preparing the recipe, or otherwise whatever you like to add in the broccoli cheddar soup.
---
Suggested recipe: KFC Style Chicken Drumstick 
---
Now I think, this is the only question that comes to everyone's mind –
Is Broccoli Cheese Soup low carb?
Each bite is so creamy and filling that it's keto-friendly it's hard to believe. However, it is low carb and keto, gluten-free! It is quick to throw together and easy weeknight dinner that your whole family with love. When you learn how to make this soup keto version, I'm sure that you will love to eat this so simple and surprisingly delicious broccoli cheese soup keto recipe. This soup is great to taste and absolutely broccoli cheese soup low carb recipe.
Nothing punches a meal that is delicious AND easy to make!
---
Find more delicious recipes:
Can I Use Cream in an Instant Pot or Pressure Cooker?
Yes.
The cream doesn't break under pressure, so the soup will not curdle. The high-fat content keeps the cream from separating. On a low carb and keto diet, full fat is important.
How to make Broccoli cheese soup in Instant Pot?
Are you looking for some instant pot keto soup recipes with broccoli and cheddar? Do you like the tasty and delicious broccoli cheese soup?
Then you have to try this Instant Pot Broccoli Cheese Soup!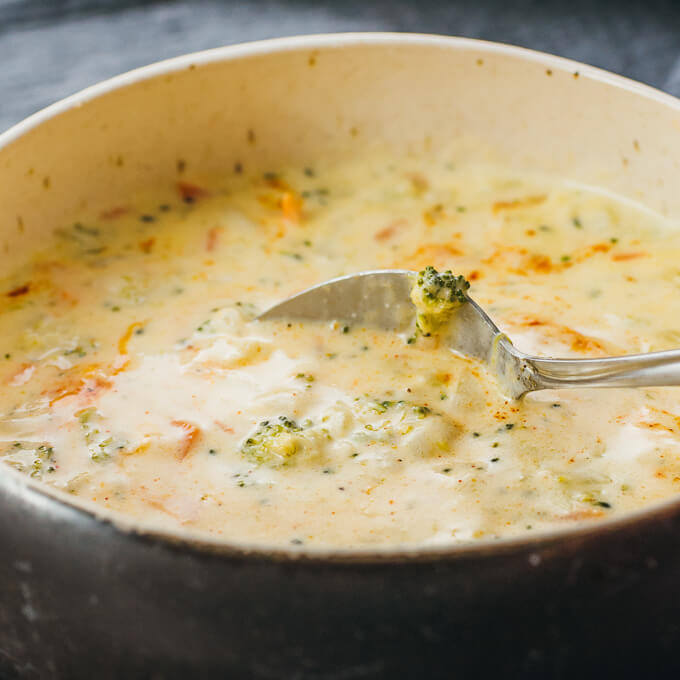 Instant pot broccoli!
Take an Instant Pot and ready for sauteing setting, add butter, once melted, add minced garlic or chopped and cook until fragrant, about 30 seconds. Add broth or water and saute for 1 minute. Add small pieces of broccoli on Instant Pot lid. Put that Instant pot for 10 minutes in the manual setting.
When releasing the steam in a manual way, the time has to be off of that instant pot. Remove lid, add grated cheddar cheese, dijon mustard(optional), paprika, and pepper and combine well until cheese begins to melt and tasty. Pour in heavy cream and continue to stir until all ingredients are well blending each other. Add salt or any other ingredients, if needed, as per your taste.
Now add xanthan gum and whisk gently until soup thickens. Transfer thickened soup in a bowl and enjoy! ?
---
How do you make thickness this Low Carb Broccoli Cheese Soup Recipe?
You can use xanthan gum to thicken the soup. For this gum use in that soup, make it so thick and delicious.
Also, there a video that helps you to make that recipe so easy way, which I found from YouTube (Channel: Headbanger's Kitchen), see here step by step. 
LOOKING FOR MORE FREE RECIPES?
Subscribe to my newsletter and follow along on Twitter & Pinterest for all of the latest updates.
Caring is sharing! 
If you like this article please share this with your friends on Facebook, Twitter and Pinterest. Also, you can subscribe to my blog to get all the latest articles first on your mobile.
---
Common FAQ
Q. How many carbs are in cream of broccoli soup?
A. Broccoli Soup has so much nutrition and has carbs also but in low not so much, total carbohydrate 12.1 g. You can get dietary fiber 3.1 g, fat 8.2 g, and calories 140.
Q. Can Broccoli Cheese Soup be frozen? 
A. Yes, definitely. Rest of the soup pack in plastic containers or resealable plastic bags and keep it in the freeze, you can store it up to 6 months. When you ready to eat just reheat the soup and enjoy it!
Q. What do you serve with broccoli soup?
A. Broccoli soup cheese is so delicious and heavy. So light, salad, vinegar-based side dish great to serve well, like salad or coleslaw based side dish or some bread recipes or some crackers biscuit.
Q. What cheese is Keto friendly?
A. There are lots of cheese you see all over, but all cheese is created equal. However, all of them are low in carb but high in fat and make them a good fit for a ketogenic diet. The good news is, cheese is totally fine to eat on the keto diet.