Honey Garlic Butter Baked Salmon is the best ever easy pan-fried delicious recipe for dinner with honey butter glaze sauce, ready within 20 minutes!
Make something different from fish or seafood?
Let's start- today's recipe, the salmon fish with honey garlic lemon butter sauce!
Yummmmm! So Tasty & delicious… That is my all-time favorite dish ever, and my family loves that flavor very much.
The craziest part is my childhood friend Liza when she know that recipe and she taste that for the first time which I made for her, she loves the most and whenever she comes to my house she wants that particular recipe and insists on me to make it for her. So what you say, guys?
Today she comes to my house so I think I have to make this recipe honey-baked salmon with garlic and lemon. You guys join me and enjoy cooking with me!
Let's begin…
WHY YOU WILL MAKE THIS EASY SPICY SALMON RECIPE
It is so delicious, simple, and easy to make at home. Not so hard to prepare and honey garlic butter baked salmon incredible recipes is a 20 minutes meal for lunch or dinner.   The honey soy sauce gravy of easy garlic butter baked salmon is made with a few ingredients, so no much, that sauce makes that dish so tasty and creates a great texture with the best flavor!   You can make this garlic and butter salmon recipe on any occasion or arrange for your guest, they will enjoy tasting so much! ?
---
How to make HONEY GARLIC BUTTER SALMON
Honey Garlic Salmon Incredible Recipes is surely easy to prepare, so delicious and the best part is not so many ingredients need for that garlic butter baked salmon recipe that is already in your kitchen. Besides being nicely sauced, this garlicky salmon honey butter baked and its tasty sticky honey glaze goes perfectly with mint pulao or cauliflower rice.
⇨ 1st I add some seasoning over the salmon fillet like ground cumin, paprika, garlic powder, Italian seasoning, salt, and pepper. cover these dry ingredients gently and properly.
⇨ Put that fillet in that pan or bake it in the grill or microwave to warm oil or butter.
⇨ Cook the fillets for about 4 to 5 minutes, or until cooked its turn into radish brown color. Flip over.
⇨ Add more butter, minced garlic, honey, soy sauce, and lime juice. Cook for another 2 minutes or until cooked through and the sauce thickens. For baked in foil you use butter, honey garlic sauce mixture cover the filleted salmon and fold, wrap with aluminum foil, and bake for 15-20 minutes.
⇨ Garnish with lime wedges and sliced green onions or with any salad; serve. ??
---
Suggested Recipes:
---
This easy garlic butter baked salmon recipe is perfect for anytime dinner or lunch idea when you do not decide what to make.
Ingredients are easily searchable pantry items and salmon are always available at your grocery store. Salmon is a very popular fish and delicious also, so you can get fresh salmon always and make at home any time any occasion.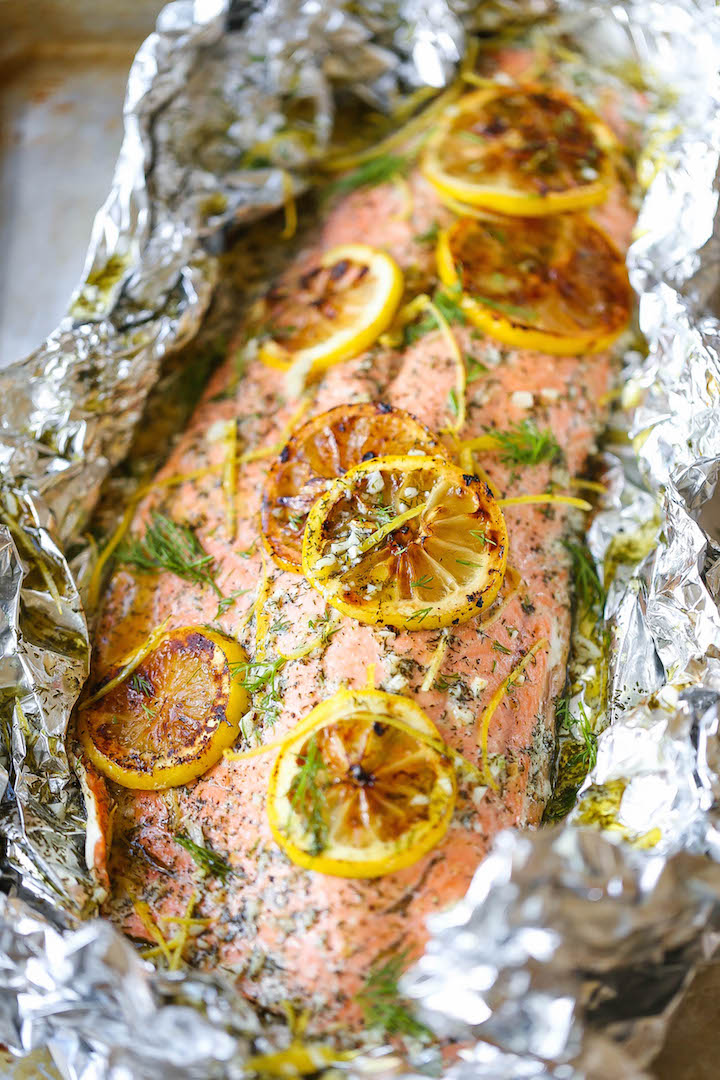 ---
Honey Garlic Butter Baked Salmon Recipe
Honey Garlic Butter Baked Salmon is the best ever easy pan-fried delicious recipe for dinner with honey butter glaze sauce, ready within 20 minutes!
Ingredients  
500

grams

Salmon

fillet

¼

tbsp

Salt

¼

tbsp

Black Pepper

ground / powdered

2

tbsp

Honey

4

cloves

Garlic

minced

2

tbsp

Butter

unsalted

1

tbsp

Lemon Juice

½

tbsp

Paprika Powder

1

piece

Lemon

sliced

2

tbsp

Soya Sauce

1

tbsp

Parsley

finely chopped

Water

as per requirement
Instructions 
Honey Garlic Butter Salmon on Oven
Preheat the oven on medium heat and arrange the sheet or shelf over the oven.

Wash the salmon with cold water, dry it with paper tissue or towels. Place the salmon on a big sheet of foil.

Seasoning with salt, black pepper and paprika and set aside.

Add honey, chipped or minced garlic, some melted butter, lemon juice, now stir and combine well.

Coat the salmon fillet completely with that garlic honey sauce. Spread the lemon wedges over the salmon fillet.

Add the honey garlic mixture on the salmon fillet, and coat evenly. Top the salmon with the lemon wedges. Fold and wrap the salmon fillet tightly with the aluminum foil. Make sure there are no gaps or no leakage.

Now you take for bake in the oven for 15-20 minutes. Remove it from the oven, open the aluminium foil carefully and you can garnish with chopped parsley. Serve immediately this awesome garlic butter baked salmon in foil recipe and enjoy!
Honey Garlic Butter Salmon on Stove Top
Heat the pan or skillet with some butter or oil over medium or high heat till the butter fully melted.

Now add garlic (minced) and combine with the butter and oil for about 1 minute until the authentic fragrant comes out. Add honey, some water, and soy sauce and stir to allow the flavor. Add lemon juice in it to combine all of the flavors together.

Now take the salmon fillet or steaks to the sauce in the pan, wait for the cook. Fry fillet for about 3-4 minutes or until turns into golden brown, and check both sides for well-cooked, soft, and crispy.

Take out the salmons from the pan and for seasoning spread over salt and pepper as per your taste (if desired). You can also add some spring onion on top of it for garnishing.
Notes
For pan baked honey garlic salmon, you can use the lemon wedges around the salmon for adds a stronger lemon taste.
Dress the salmon fillet one more time, after that, you transfer the sauce of the pan to grill or broil for further 5-6 minutes or until the tops of the salmon are glowing nicely and the salmon is cooked to your liking.
Also, you can be baked salmon with garlic butter and dill. There are no barricades, whatever you want to add vegetables or cheese or cream to create more flavor.
---
---
WHAT TO SERVE WITH THIS BROWN SUGAR HONEY SALMON RECIPE
Truth be told you can serve everything with this salmon recipe. However, I gave some suggestions, you can let me know what you like by commenting.
Take a look in this video that I found on YouTube. It may helps you visually.
---
More Recipes:
---
Common FAQ
Q. How long do you bake salmon at 400?
A. Only 12-15 minutes in medium flame you can bake salmon at 400 degrees F. Brush the salmon with oil, garlic, some seasoning, and pepper mixer and bake it over the lined baking sheet with foil.
Q. Can you cook salmon from frozen?
A. Sure, why not. You can cook the salmon from the freezer, but it is good to eat at room temperature. If you have not so much time, cook frozen fish straight from the freezer. For that purpose, you have to add more few minutes to cook the fish for lack of thawing or you can broil, baked, or grill direct from freeze. But you have some time in your hand 1st do the thawing process then cook or baked or boil.
Q. What should I make with salmon?
A. Salmon is a different fish that you eat with simple basics recipe like
Jeera Rice
Mediterranean avocado salmon salad
Chilled Lemon-Dill Cucumber Noodles
Zucchini Noodles with Salmon
Any kind of Honey salad like Honey-Ginger Pear Salad, Spinach Salad with Avocado, Berries & Honey Vinaigrette, etc.
Q. What vegetables go well with salmon?
A. Mostly asparagus is the common vegetable that set up with salmon fillets, but beans, spinach, roasted broccoli, with green beans with tomato and with honey garlic dishes are pretty killer too!
Q. Can I cook salmon in the oven without the foil?
A. Absolutely, seasoning the salmon fillet with pepper, salt, ginger-garlic paste, some dry or fresh herbs, and some olive oil. Cover this salmon fillet with baking parchment paper and place this in the baking dish in an oven. Before the placement of rapped salmon, preheated the baking dish to 400 degrees F for about eight minutes.
---
If you like this recipe about Honey Garlic Butter Baked Salmon, please share this with your friends on Facebook, Twitter, and Pinterest. Also, you can subscribe to my blog to get all the latest articles first on your mobile.
SHARING IS CARING!
FACEBOOK | TWITTER | PINTEREST
Did you like this recipe and make it later at home? SAVE this pin to your favorite board on Pinterest!