Homemade soups are best for a good meal. Other side homemade soups are also good for weight loss. No need to decide which components uses in your soups or measurements, only look to create something healthy and delicious, looks crazy! It is simple to prepare at home using the stove best or within the slow cooker or instant pot.
And on top of that, homemade soups will help you lose weight and keep it off. If you have to limit yourself to a successful weight-loss method, I believe it will be a soup, and that is nutritious and satisfying and comfort food for winter also, can fill you up on Smart Point Plus. Packed with vegetables, chicken, mushrooms and other ingredients make the soups are so healthy and the perfect thing to have around when hunger strikes.
Looking for the best Weight Watchers Soup Recipes with Points? I've got an amazing idea of delicious and healthy WW Freestyle soup recipes for every day and also for cold winter laying on your couch with a warm blanket and watching your favorite series or movies.
20. Zero Point Cabbage Soup for Weight Watchers
Cabbage Soup is the best savory vegetable soup made with cabbage, tomato, carrots, celery, and spices, ready in under 45 minutes and as you like because it's only 22 calories per serving!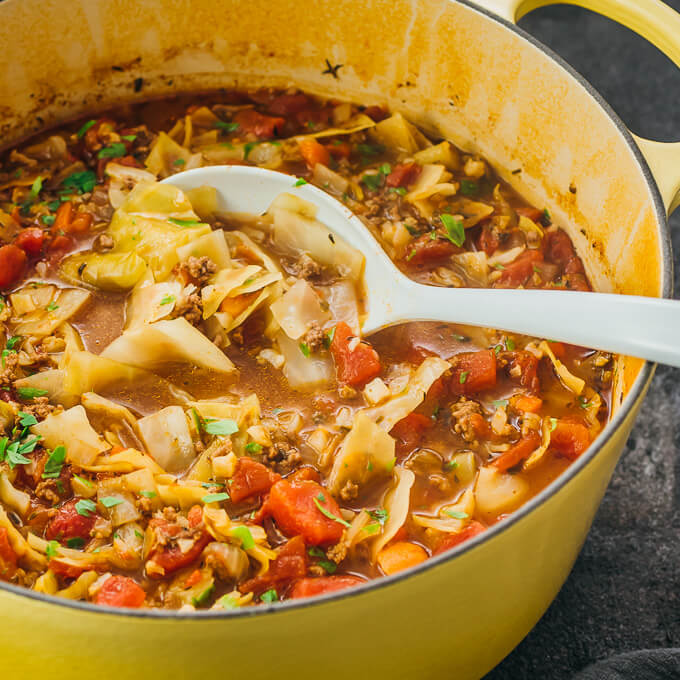 Check it here.
19. Healthy Nacho Soup 
This tasty slow cooker Nacho Soup is perfect for weight loss and the best comfort food recipe ever!
Check it here.
18. Chicken, Vegetable, and Orzo Soup
Green dill and lime juice make a fresh and unique twist to this Chicken, vegetable, and orzo soup. Good for all foodie weight watchers.
Check it here.
Related Recipe: Valentine's Day Dinner Recipes
17. Healthy Butternut Squash Soup
This Butternut Squash Soup Recipe is creamy and delicious, without being loaded up with heavy cream, also weight watchers satisfying soup recipe.
Check it here.
16. Tasty Lasagna Soup
The easy, healthy lasagna soup is the best and easiest soup cooked in one pot, this soup is best for dinner weekend and a perfect dish for weight loss.
Check it here.
15. Slow Cooker Stuffed Pepper Soup
Stuffed Pepper Soup has toned down the intensity of the green peppers while keeping all the delicious stuffed pepper flavors. Sure this soup will love all food lovers!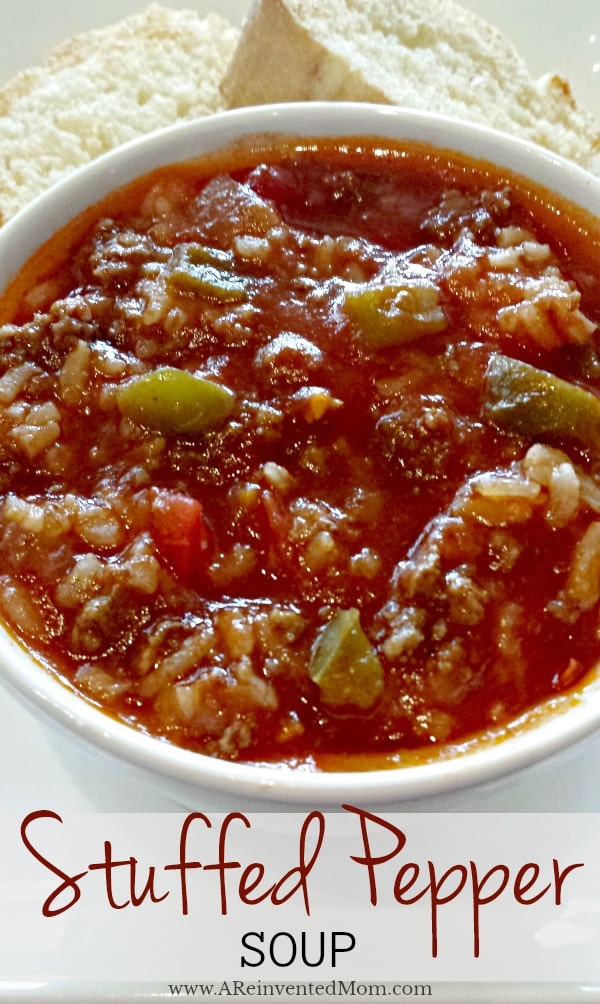 Check it here.
14. Coconut Chicken Sweet Potato Curry Soup
Chicken, sweet potatoes curry soup is just delicious and healthy, adding coconut makes the soup so tasty and so a nice flavor, best soup for dinner!
Check it here.
13. Tortellini Soup
This creamy tortellini soup is comforting, cozy and so yummy, made in just 30 minutes! Ready to go to make this healthy Soup!
Check it here.
Suggested Recipe:
12. White Bean and Ham Soup
Slow cooker white bean and ham soup perfect for cold winter and also weight loss!
Check it here.
11. Olive Garden Chicken Gnocchi Soup
A copycat of Olive Garden's Chicken and Gnocchi Soup is loaded with vegetables, chicken, and potato gnocchi and so creamy, flavorful, and comforting soup.
10. Chicken and Rice Soup
Healing Chicken and Rice Soup that is limey, salty, and so fresh! Try this soup and it's gonna be really helpful for all weight watchers.
Check it here.
9. Pineapple Chicken Stew
This chicken and pineapple stew has a great flavor and is one of my favorite slow cooker meals!
Check it here.
8. Potato and Shrimp Soup
Potato with Shrimp soup is perfect for company and for regular weeknight dinners.
7. Taco Soup
This easy Taco Soup recipe is one of my favorite dinner solutions when I want something healthy, quick, and tasty. Also, this keto soup is best for weight watchers.
Check it here.
6. Olive Garden Minestrone Soup
Minestrone soup is a healthy and delicious soup loaded with fresh vegetables, beans, and tender small shell pasta. Make this soup now!
Check it here.
5. White Chicken Chili
This creamy white chicken chili is made super easy in your crockpot! It makes a delicious meal full of spicy chili flavor, chicken and white beans.
Check it here.
4. Potato Soup – Smartpoints 3
The best weight watchers freestyle potato soup, try at home at night!
3. Easy Vegetable Soup
This Vegetable soup is so healthy and delicious and best for weight watchers, they love this recipe the most, also my favorite too!

Q. What can I add to vegetable soup for flavor?
A.
Sure, here are some tips to improve the flavor in the soup –
Add, paprika powder or curry powder
White wine
Apple vinegar or white vinegar
Some herbs like basil, oregano, thyme
Add garlic clove
Parmesan adding to the soup
Add lemon juice for flavor
Dried herbs like Italian seasoning
Red pepper flakes.
Q. What is good with vegetable soup?
A. Here some recipes that are good with vegetable soup –
Fresh salad dishes
Basil Risotto Stuffed Tomatoes.
Grilled garlic toast
Corn Bread and so on.
2.
 Creamy Broccoli Cheddar Soup
This broccoli cheddar soup is one of my favorite soup and the Best easy recipes soup for all weight watchers!
Check it here.
1. Barley Mushroom Soup
This mushroom barley soup recipe is strengthening for digestion and as well as healing for the liver. This soup is good for health, try that soup at night!
Check it here.
Would you like to check these recipes later? Save THIS PIN below to your Weight Watchers Recipes board on Pinterest!
Another Healthy recipe must Watch!

Roasted Shrimp Recipes
Paneer Pakora
Lemon Pepper Asparagus
Honey BBQ Chicken
Cucumber Caprese Salad
Chili Chicken
Honey Butter Baked Salmon
Pad Thai Recipe
Banana Chocolate Chips Muffins