The Delicious Easy French Toast Recipe just makes you feel crazy in the morning! So easy to make at Home and best for morning breakfast and snacks too! Get ready to make the mouthwatering Classic French Toast with vanilla and cinnamon flavor that you say, Want More!
---
[jetpack_subscription_form show_subscribers_total="false" button_on_newline="false" custom_font_size="16″ custom_border_radius="0″ custom_border_weight="1″ custom_border_color="#f78da7″ custom_padding="15″ custom_spacing="10″ submit_button_classes="has-f-78-da-7-border-color has-background has-vivid-red-background-color" email_field_classes="has-f-78-da-7-border-color" show_only_email_and_button="true"]
---
Looking for an easy homemade breakfast for the morning?
Or search for something classic and tasty snacks?
Here today's recipe just delicious and homemade totally, so easy to make just within 30 minutes. I think you will guess what recipe I'm taking…
The Easy French Toast Recipe!!
You don't believe when I hear the recipe, my stomach just says to me, "full me with french toast". I just really can't stop myself to take this delicious creamy buttery french toast. I just love french toast!
This Tasty and good french toast recipe made with eggs, milk, cream, cinnamon, and other simple ingredients that create a great texture and good flavors like texas toast, perfect for morning breakfast and brunch.
Which ingredients are needed for Healthy French Toast?
The ingredients that you need for this recipe are already in your kitchen and freeze too! Let's take a look below-  
French bread, brioche, or use rich bread
Eggs
Whole Milk Cream
Vanilla
Cinnamon
Sugar
Butter
Maple syrup
Salt
Pepper
The standard French toast is brown and crispy on the outside and creamy inside. It is not dry and it is not aromatic. It has rich, creamy based, and generally serve sweetened with sugar, fruits, butter or maple syrup, etc.
 How to Make Best-Ever French Toast?
This easy homemade French toast is best for breakfast and snacks too!
1. First, take a bread, cut it into few slices, I basically cut about ¾ to 1 inch thick, you can use whatever you want or use ready-made sliced bread.
2. Now for preparing the liquid mixture, in a large bowl, egg, cinnamon, milk, sugar, vanilla, cream, salt, pepper, and all these ingredients mix very well, keep in mind that no lumps floating in the mixture.
[ Tips: Though the cinnamon (powder) don't mix so quickly in the liquid mixture, it's just floating right to the top while dipping the bread slices, you have to whisk egg and cinnamon first and whisk this very well so that there are no lumps in the liquid.]
3. Now time to dip the slices like pieces of bread in the mixture. Depending on the type of bread dip the bread slices in the batter for 1 – 2 minutes and flip over for another 2 minutes to absorb the mixture in the slices.
[ Tips: If you find that the slices absorb a bit more liquid, you can gently shake the side as you press the sponge.]
4. Take a large griddle or skillet, add some melted butter. Place the dipped bread over the skillet, wait for toast until golden brown. Flip over and toast. Serve hot! Check out for more info here.
Basically, I love to eat salad, vegetables, but for health, you should need not only vegetables but proteins are also important too! So the 1st thought that comes to your head when we hear protein is EGG. Right?
This healthy french toast recipe made with egg and other simple ingredients that I love to eat during breakfast.
Will this French Toast recipe just be made with egg white?
Oh! Why not? You can. If you don't like to add the yellow part of the eggs, remove these and take the white parts of those eggs. Know more details check out here.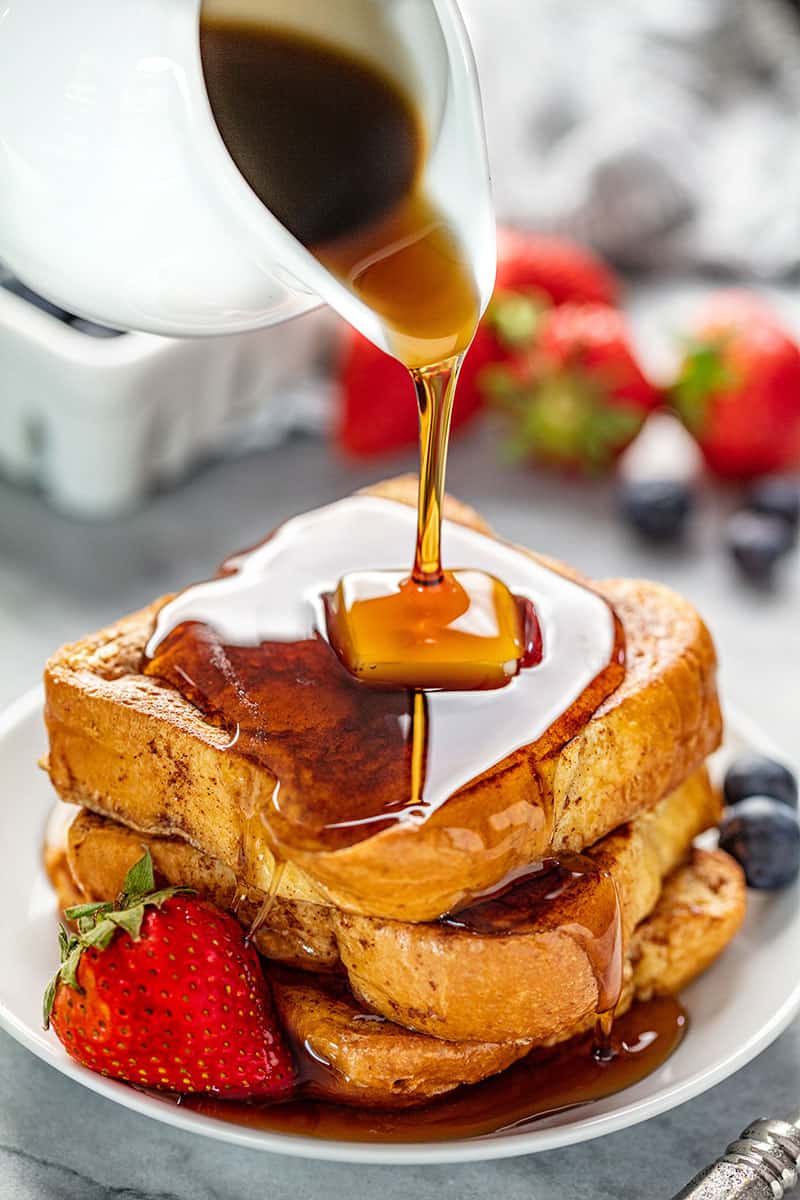 For the french toast, you can make this with add some flour to the batter. But…
Why Add Flour to the Batter? Know why?
Flour is a simple ingredient that you can get in your kitchen. The point is, why you use flour in the butter for making the french toast? Adding flour in the batter to create thickness so that it saves French toast over bread by avoiding just fried eggs. And it forms a crispy crust on the bread.
See here the detailed recipes…
Suggested Recipe: Custard Recipes
Is there any possibility to make the batter of a healthy cinnamon french toast recipe in Advance to save time?
Yes, of course! The batter / egg-milky mixture can be made one day in advance and you can leave it in the fridge. When you want to start cooking, bring out from the freeze and shake again before dipping the bread.
To make a tasty french toast, you have to buy quality ingredients from the shop. This soft, crispy toast has very few simple ingredients, and you can easily available in any shop market and in your kitchen too! And the main part- select the right bread for the kind of results you are looking for.
Can't finish the toast? Want to save leftover in the freeze?
First, cool the french toast completely. Then transfer this bread to parchment paper. In the parchment paper in between each layer, the bread toast can be stacked. Freeze until stiff, then transfer to a reusable plastic freezer bag for long-term storage. Or place the baking sheet into the freezer until the French toast is solid. Store the French toast in freezer bags for up to 1 – 2 months.
Want to warm or reheat this toast again?
Are you afraid that if something goes wrong with this toast, if you reheat again?
Don't you worry! Here I have brought some simple ways that will not cause any problem if it is warm or reheat again.
There are three ways to reheat French toast. These ways are so simple and all work great.
Microwave – Place them in the microwave for about a minute per slice until warmed through, keep in mind that the outside of the bread won't be crispy.
Toaster – Put them in a toaster until heated through, see the outside of the bread gets crispy and toasty again. Delicious!
Oven 
– Place the easy and healthy French toast in a single layer on a baking sheet or in a pan and warm these up in the oven at 300 degrees for 5-7 minutes. Gets crispy and inside soft bread for anytime
breakfast
!
Buttery French Toast Recipe
Image: cookingclassy
Healthy French Toast Recipe
Prep time: 8 minutes
Cook time: 15 minutes
Total time: 30 minutes
Yield: Serves 4
Calories: 165
Course: Breakfast
Cuisine: American
Author: Priyanka Dutta
Ingredients
4 eggs
2/3 cup milk
2 teaspoons of cinnamon
8 sliced 1 inch thick of 2-day-old bread or use rich bread or fresh bread
Butter (or use vegetable oil)
Warm maple syrup (optional)
1/4 cup heavy cream
1 tbsp granulated sugar
1 tsp vanilla extract
1 tsp ground cinnamon
salt and pepper as per require
2 teaspoons freshly grated orange zest(optional)
Preparation: 
⇒ Prepare the mixture:
In a large bowl, add egg, milk, and cinnamon, whisk together very well.
Add Ingredients
Image: cookingclassy
⇒ Adding ingredients: Add sugar, salt, pepper, cream, and vanilla, mix to blend well. Stir in the orange zest if you using.
Make the batter
Image: cookingclassy
⇒ Add butter: Adding butter to the mixture just before adding the bread.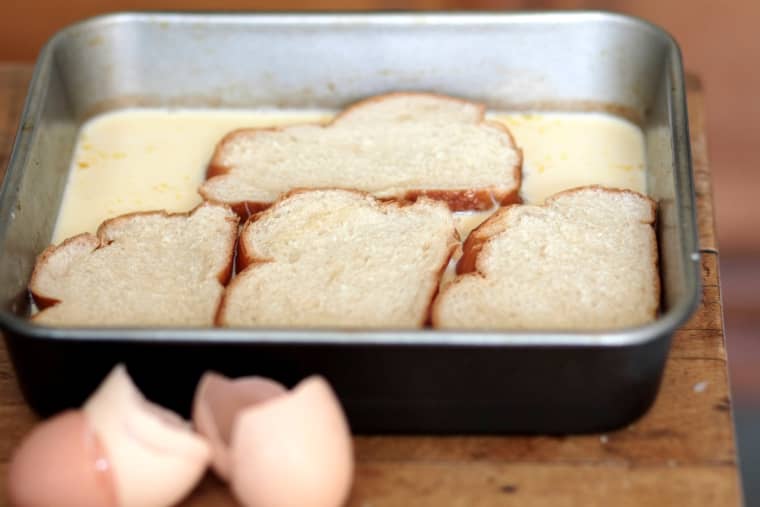 Dipping the breads into the batter
Image: The kitchn
⇒ Dip the bread in the mixture: Place one slice of bread at a time or you can place four slices of bread in the egg mixture liquid at a time for soaking for 1 minute. After one minute flip it and dip the opposite side.
⇒ Cook the toast: Add some butter in a large skillet over medium-high heat, wait for melt.
⇒ Cook the bread: Place the bread on the griddle, or you can use a skillet as well, add some butter in a large skillet over medium-high heat. Drain the extra egg mixture from the bread and place the bread slices in a hot skillet. Fry the French toast until browned on one side, then turn and turn brown on the other.
Toast The Breads
Image: cookingclassy
⇒ Serve: Now serve This best healthy french toast recipe with butter, maple syrup, or decorate with powder sugar sprinkle over the bread on top or whatever you want to!
Notes:
➛ If you don't use milk, use whipped cream instead of milk.
Tips to Making Perfect Simple French Toast Crispy:
⇝ To make a crispy and crunchy outside, add flour in the batter and make it crispy with butter.
⇝ You can fry the toast in oil on the outside to get a crispy edge.
Nutritional Information Per Serving (1 of 5 slices) 
Calories: 165
Fat: 2.4g
Sodium: 343mg
Carbohydrates: 29.6g
Fiber: 2g
Sugar: 3.9g
Protein: 6.1g
Healthy French Toast Sticks is one of my best breakfast snacks for the morning. This creamy based milky version has the perfect ratio of milk to egg and some cream gives it a delicious richness. Packed with lots of vanilla and cinnamon to get the smell that no one will be able to resist. It's just amazing for anytime snacks!
Try these Breakfast recipes at home!
Which dishes to Serve with as asides from the bread?
Actually, the classic french toast is so delicious and tasty that you eat that normally without any side dishes. But for more flavor or want to eat with something, these recipes will be great with perfect french toast simple recipe.
Crispy bacon
Sausage or ham
Scrambled side eggs
Topping French Toast In different ways!
This french toast recipe has perfect for snacks with the correct amount of batter to bread and creates a nice flavor, the great texture of this classic french toast recipe for whatever you decorate.
Here some topping ideas to make the morning breakfast amazing!
1. Classic butter with Maple Syrup:
Just amazing french toast with maple syrup, try now!
2. Strawberries and Whipped Cream French Toast
Just mouthwatering toast ever with strawberries and whipped cream!
Strawberry and whipped cream French Toast
Image: eazypeazymealz
Get the recipe here.
3. Cinnamon and Sugar Sauce French Toast
This French toast is best with cinnamon sugar syrup, try it at home now!
Cinnamon Sugar Sauce French Toast
Image: happyfoodstube
Get the recipe here.
4. Bananas Foster French Toast
Bananas Foster French Toast is loaded with a caramelized brown sugar banana topping and a rich french toast.
Banana Foster French Toast
Image: handletheheat
Get the recipe here.
5. Apple Cinnamon French Toast
Best ever french toast with apple and cinnamon french toast perfect for snacks!
Apple Cinnamon French Toast
Image: lecremedelacrumb
Get the recipe here.
6. Chocolate French Toast Recipe
Chocolate French Toast with Peanut Butter is just melted in the mouth and so delicious for desserts and breakfast too!
Chocolate French Toast Recipe
Image: johleneorton
Get the recipe here.
At last, I suggest that don't waste time thinking, just try and cook this best-ever tasty french toast recipe at your home and serve it hot with your family!
If you really like this recipe share it with all and subscribe to my site so that all upcoming recipes will get you first.
Do you really like this recipe and want to read it another time? SAVE this pin below to your favorite board on Pinterest!
Common FAQ 
Q. Why is it called French toast?
A. According to legend, it was a man named Joseph French. He created the dish in 1724 and advertised it as "French Toast" because he was grammatically inexpert and forgot the apostrophe.
 The first Americans came up with the recipe and the name in America. In France, this delicious recipe is called "pain pardu" which means "lost bread". Basically, Mainly, People make the bread for eat, when those bread overcooked and it does not use, just has been thrown away. French toast is coming from these thrown away bread.
Q. Is French toast healthy? 

A.
French toast is definitely a good meal for breakfast and snacks. French toast – as well as 20 fewer grams of sugar. It's typically higher in fat because it is fried in a pan with oil or butter. Made with good quality whole grain bread, good quality milk, eggs, cinnamon, vanilla, and oil will always make for a healthier
meal
always.
Q. Is French toast a junk food?

A. All those foods which are over fry with oil or with butter are not so much healthy, we know that. But in that case, French toast is not junk food. French Toast has simple but healthy ingredients like eggs, milk, cinnamon etc. which are good for health and get vitamin D and protein too!