Healthy Easy Shrimp and Broccoli Alfredo Recipe are loaded with cream cheese, Shrimp, Pasta, Broccoli, and creamy parmesan. This keto recipe is easy-to-make and just ready within 30 minutes. This Shrimp Alfredo comforting recipe is best for dinner and serves hot to your family and friends.  
Here today I make some seafood – Shrimp!
I think this seafood all loves very much and love to eat in a variety way.
So today I make this Healthy Shrimp and Broccoli Alfredo Recipe – it's ready within 30 minutes at your home. So tasty and delicious that you want more after tasting this keto recipe.
If you love shrimp pasta, you have to make this as soon as possible. In that recipe, you will find the restaurant-style taste, low carb and gluten-free too!
For a vegetarian version of the dish, who loves to eat only veggies, just remove the shrimp. And if you are searching for something creamy, you could add some reduced-fat cream cheese, whole milk, or non-fat evaporated milk.
So some people think that actually what is the recipe and what kind of dish that I made today. I don't want to put you in any kind of confusion, don't waste time let's see what the dish is –
Garlic Shrimp Pasta with Broccoli (Image: wellplated)
What Is Garlic Shrimp Alfredo?
This easy Shrimp Alfredo with broccoli recipe is so delicious and easy to make at home, with pasta that is coated in a creamy cheesy tasty sauce that is usually thick and so flavorful with grated Parmesan cheese and cream cheese.
The Shrimp are sauteed in butter and garlic that is sauteed in a pan and then tossed with the alfredo sauce which is so much creamy as I say before. With cooked pasta and broccoli, all are coated with this sauce and served hot. The healthy recipe for shrimp and broccoli over pasta meal is quick and easy for your busy day! To know more information click here.
Now you think what the sauce is I'm talking about…
What is Alfredo Sauce?
There is a history about the naming of alfredo sauce…
Alfredo Sauce was named after Alfredo, an Italian restaurant owner (which is just another reason to love it so much), he created the dish in Rome, 1920. He made a nice sauce made from butter, cream, and parmesan, added this sauce on hot fettuccini, and finished it off with a thick sprinkle of pepper.
Admittedly, this sauce is a great meal that gives this dish a different dimension. So we have thanked him to create a great nice sauce for us.
I like to add some garlic for flavor and add as well as flour to the butter and mix all so that the sauce creates a nice texture and creamy too!
Broccoli and shrimp with Pasta (Image: thelemonbowl)
Which ingredients do you need to make this Cajun Shrimp and Broccoli Alfredo?
There are some simple and on your budget ingredients, you need to make this healthy shrimp and broccoli pasta.
– Shrimps
– Pasta (any kind of and any shaped)
– Broccoli
– Milk
– Cream Cheese
– Parmesan Cheese
– Garlic
– Salt and Pepper
– Butter or Olive Oil
How To Make Garlic Shrimp and Broccoli Alfredo with Heavy Cream?
Are you thinking is the recipe makes it so hard and takes lots of time? I say no… it's not so hard and easy to make just within 30 minutes.
Cook the pasta and broccoli first, clean and wash the shrimp and take some butter or oil in a skillet or pan and cook it for 2-3 minutes until golden pink and then add garlic for flavor.
Now it's time to make the sauce. I especially love making homemade alfredo sauce which is so creamy and delicious but only it takes a few minutes to prepare. Adding milk, cream cheese, parmesan cheese, salt, and pepper for taste and mix all well until smooth.
Basically, Alfredo sauce is a white creamy sauce enriched with grated parmesan cheese. For thickening, I love to add 1 tablespoon flour in the butter and stir to combine well until they form a thick "paste".
Keto Broccoli and Shrimp Alfredo (Image: slenderkitchen)
What To Serve With Keto Shrimp Alfredo with broccoli?
In my opinion salads are the perfect combination with this shrimp and broccoli alfredo fettuccine recipe. A simple Carrot slaw, creamy veggies coleslaw, Cucumber Caprese Salad with mozzarella are the best side dish recipes that go well for this Italian healthy easy recipe and will add even more nutrition to your meal.
Can add Vegetables to easy healthy Cajun Shrimp and Broccoli Alfredo?
Absolutely! why not?
To make the shrimp alfredo I using Broccoli. But other vegetables you can add to that recipe to make the recipe healthy and tasty –
Chopped asparagus
Diced zucchini
Spinach
Chopped Tomatoes
Sliced Carrot etc.
Whatever you will add vegetables that will be a great taste with shrimp and Alfredo sauce.
Remember one thing that, to make the recipe, first you have to cook the veggies depending on how soft you want and it will take a few minutes longer than shrimp.
Broccoli and Shrimp Pasta Alfrado (Image: feelgoodfoodie)
What Pasta you can use to make the keto Shrimp Alfredo?
To prepare the recipe, You can use any kind of pasta and any shape whatever you liking. But for Alfredo sauce which is creamy, cheesy, and thicker, use long pasta like fettuccine, linguine, tagliatelle, and even spaghetti.
Pasta is an additional ingredient that creates the recipe tastier. Whichever pasta you choose for adding to this recipe, will taste great and flavorful with white creamy sauce and crispy shrimp.
[Here a small tip for me, when you start to cook pasta in the water, make sure you have to add some salt in the water and don't overcook it.]
SOME MORE SHRIMP RECIPES TO TRY:  
Garlicky Shrimp Skewers Recipe
Roasted Shrimp Recipes
Can You use frozen broccoli for this recipe?
For this Homemade Shrimp Broccoli Alfredo recipe, use any kind of broccoli, but Frozen broccoli will work for this shrimp and broccoli pasta best.
The frosty or frozen broccoli is already cooked, so it doesn't take long to defrost and become tender. Just add that broccoli to the pan in the same way as thawing. When it is bright green, that means it's ready.
Here a note about frozen broccoli, it will release some extra water, so that the sauce may not thicken. If you want you can conflict this by bringing the liquid to a boil and reducing the sauce even further.
Check out here to know more.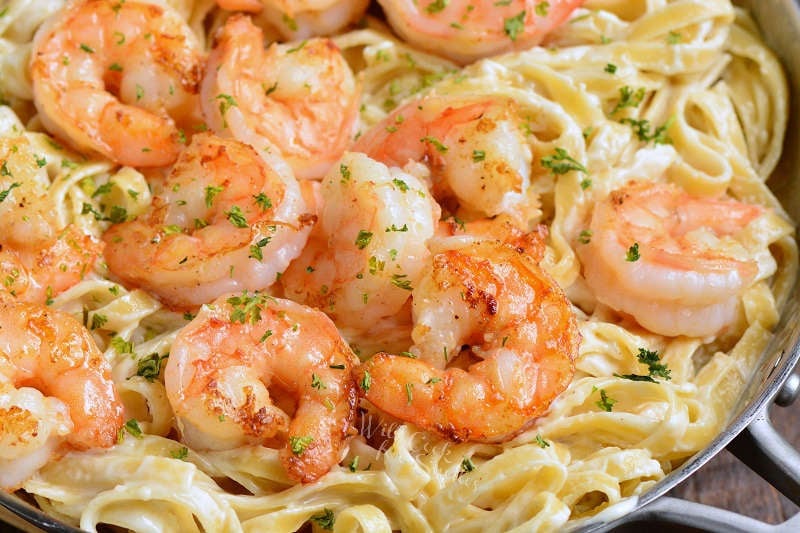 Healthy Shrimp Alfredo (Image: willcookforsmiles)
How to store and reheat Shrimp and Broccoli Alfredo Pasta?
Want to eat leftover pasta, shrimp, and sauce after some time? Thinking it can be a store or not?
Yes! you can. Leftover shrimp, sauce, and pasta are put in a food storage container with an air-tight lid. And store in the freeze for 3-4 days maximum. But not more.
And want to reheat again and also after removing from the freeze?
Sure, you can reheat the recipe again.
If you see the Alfredo sauce becomes thicker since it's cream-based. Reheat the Creamy sauce slowly over the oven on low flame. It should not be reheated in a microwave.
Use a large pot or pan to reheat the sauce or pasta and shrimp mixes together over the medium to medium-low heat flame. If the sauce seems a little bit thick, add a splash of whole milk and stir gently until blended.
 
If you made any of my recipes and shared them on

Instagram

, and

Pinterest

! Make sure for Instagram to tag me @crispyfoodidea and #crispyfoodidea so I can see all the things you tried!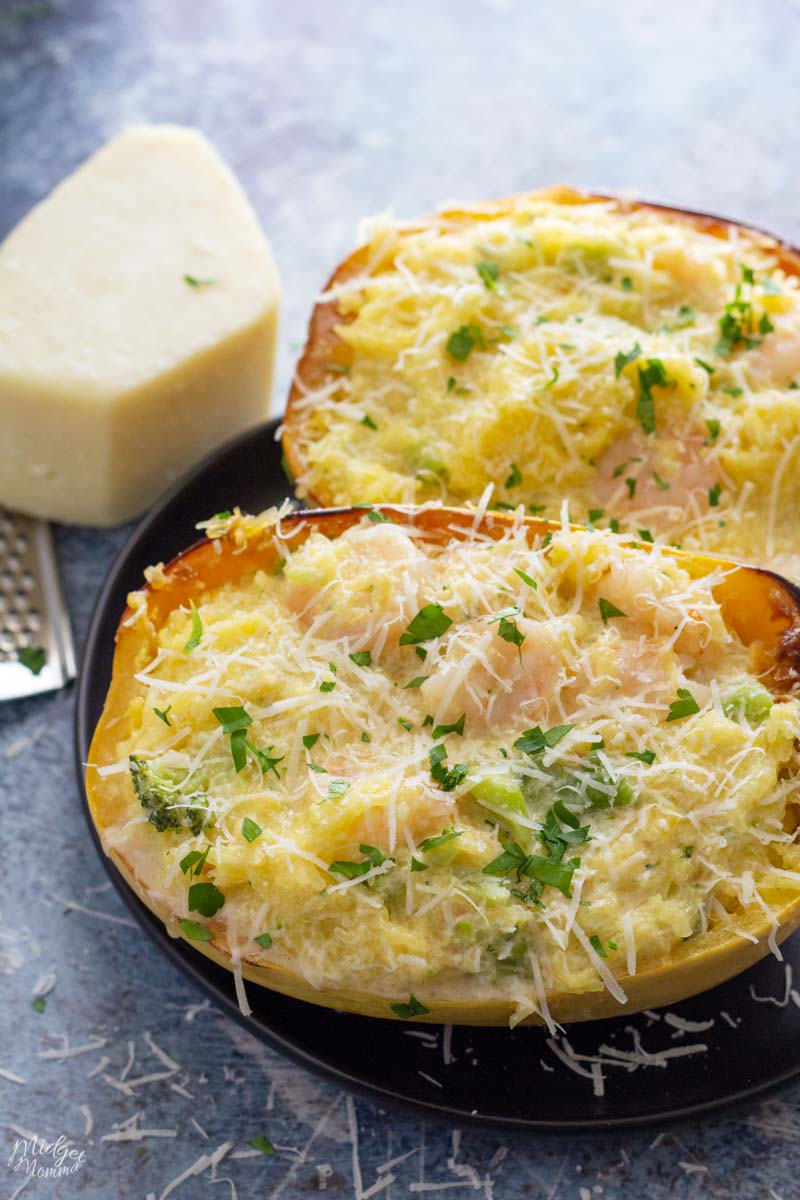 Speghetti Alfredo (Image: midgetmomma)
Low Carb Alternative to Pasta
If you looking for an alternative option to replace the pasta. The spaghetti is the best option for this recipe. To want low carb shrimp and broccoli alfredo recipe, Spaghetti squash is the perfect low carb option for pasta and you can use the spaghetti squash "noodles" for any dish that you would normally use pasta.
To know more about this spaghetti and interested in how to cook click here.
Easy Garlic Shrimp Alfredo (Image: wellplated)
Can You Freeze Garlic Shrimp Alfredo?
Yeah! Sure… This tasty alfredo sauce can be frozen. If you think that this sauce will be used for after 2 o 3 days, it is the best way to keep it in an air-tight zip bag and store this in the freeze.
Cooked shrimp do not reheat well.
To reheat the alfredo recipe, place the pasta in the microwave and safe place in it and heat for 45 -60 seconds or until heated through.
To know more details check out here.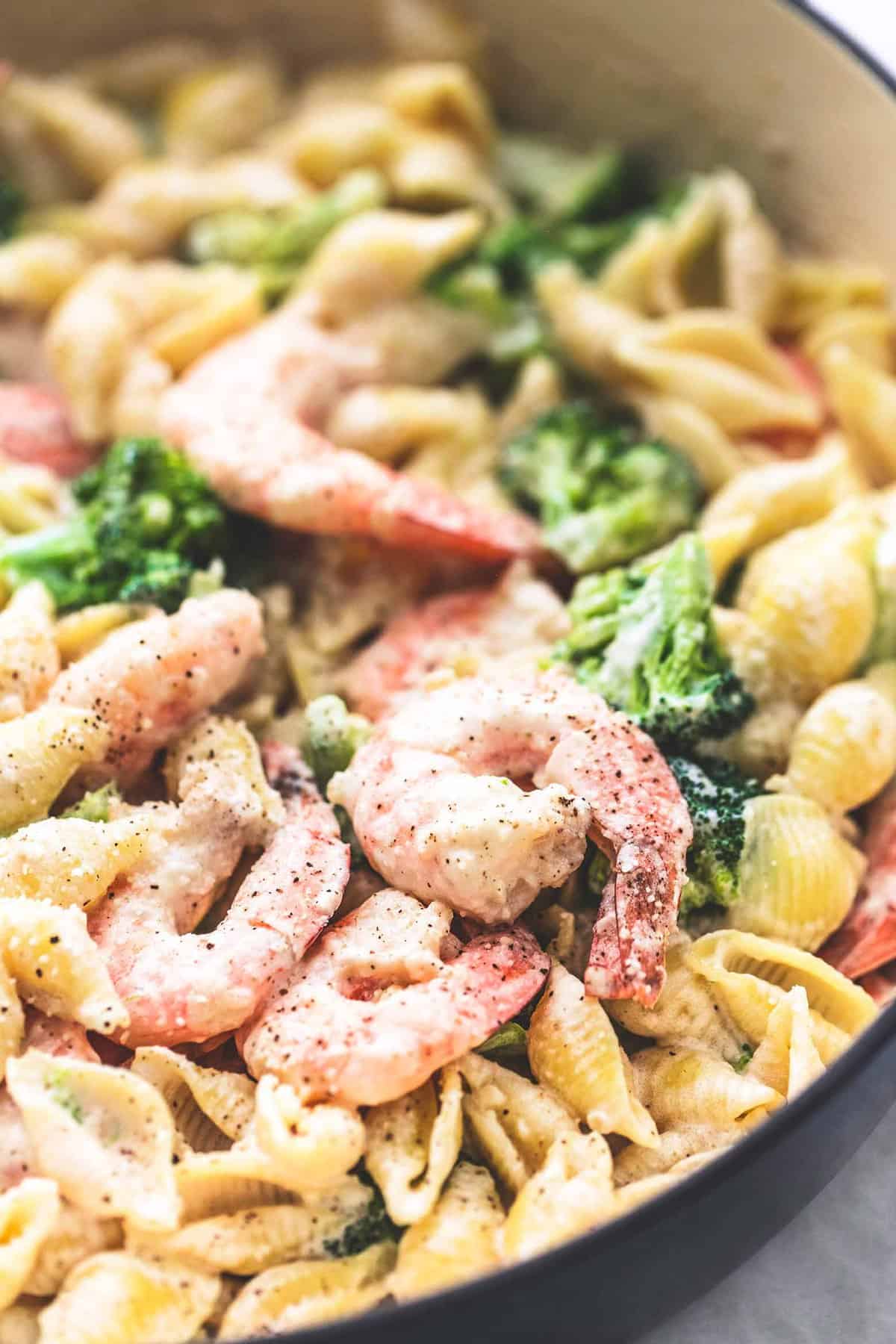 Creamy Shrimp and Broccoli Alfredo (Image: lecremedelacrumb)
Shrimp and Broccoli Alfredo Recipe
This Healthy Shrimp and Broccoli Alfredo dish is just a mouthwatering taste, with creamy cheesy alfredo sauce, pasta, buttery shrimp, and hearty broccoli all in one pot make a delicious healthy meal for an easy weekday in just 30 minutes!
Course:  Main Course
Cuisine: Italian
Prep Time: 10 minutes
Cook Time: 20 minutes
Total Time: 30 minutes
Servings: 4 servings
Calories: 809 kcal/ serving
Author: Priyanka Dutta
Ingredients

➢ 8 ounces whole-wheat pasta any shape
➢ 1 pound uncooked medium shrimp, peeled and deveined
➢ 3 garlic cloves, minced
➢ 1 tablespoon olive oil
➢ 1/2 cup butter, cubed
➢ 1 package (8 ounces) cream cheese, cubed
➢ 1 tablespoon flour
➢ 1 cup whole milk
➢ 1/2 cup shredded Parmesan cheese
➢ 4 cups frozen broccoli florets
➢ Salt and black pepper for taste
Directions
➹ Wash: Wash the broccoli under the water very well. Now take those shrimp and peel the skins, tails and remove the main central vein from shrimp or prawn. Then wash it under the freshwater.
[ Tips: Wash those shrimp in warm water is really good so that all those germs will be removed.]
➹ Make Pasta: At first cook the pasta, you can take any kind of and any shaped pasta from a food shop. Cook the pasta according to package directions in the water with salt.

➹ Boil or steam broccoli: Add the broccoli in that water of pasta and both (pasta & broccoli) cook or boil for 2-3 minutes over a high flame. Or you can steam the broccoli, as per your choice.
➹ Fry the shrimps: Bring a large skillet, add some butter or oil in it, wait for hot for few seconds over the high flame. After hot the oil or butter, add shrimp, stir well and cook for 2-3 minutes per side until it turns a golden pink.
➹ Cook the broccoli and pasta: Don't remove the shrimps, add cooked pasta and broccoli in it and add garlic, mix well and cook for more than 1 minute. Add flour and stir to combine, more cook for 1 minute. Set aside.
➹ Making the sauce: In the same pan, add milk and whisk continuously, add cream cheese, parmesan cheese and mix well until smooth. For taste, add salt and pepper, cook and stir until cheeses are melted and the mixture is smooth.

➹ Final Process: Now time for adding the cooked shrimp, broccoli, and pasta to the mixture and mix well until everything will be fully coated within the sauce. Now ready to serve hot with a sprinkle of parmesan cheese for garnishing.
Shrimp Broccoli with Pasta Alfredo (Image: cookinglight)
Recipe notes:
1. Here I use flour, if you don't want to add skip it.
2. To make the sauce I using milk, cream cheese, and parmesan cheese. But you can use 1 cup of vegetable broth, 1/4 cup of plain Greek yogurt, and parmesan cheese to replace milk and cream cheese.
3. Buy any kind of pasta and any shape that you want. and cook this as mentioned in the packet. Or if you don't cook as per packet direction, you can cook that in your own way.
4. You can use any kind of cheese like mozzarella cheese, ricotta cheese, feta cheese, parmesan cheese, etc for this keto easy shrimp broccoli and pasta alfredo recipe.

Suggested: Ricotta Cheese Recipes
Nutrition Amount: 
Nutrition Facts 1 serving: 809 calories, 50g fat (30g saturated fat), 270mg cholesterol, 1030mg sodium, 52g carbohydrate (9g sugars, 4g fiber), 38g protein.
I hope you know all the recipes in all details and now you can make this recipe so easily at your home. So why are you waiting for? Do it now!
If you like my recipe share it with all so that they will make that recipe at their home. So if you looking for more healthy recipes subscribe to my site so that all upcoming recipes you will get first. You can comment to me to know your opinions about this recipe after making it.
Do you really like this recipe and want to read it again while cooking? SAVE this pin below in your favorite Board on Pinterest!