Cinco de Mayo is right around the corner and it is a great celebration with Mexican recipes. There are few delicious and tasty Easy Mexican Desserts for Cinco De Mayo that are both sweet and spicy!
Mexican Desserts for Cinco De Mayo, also known as the "Anniversary of the Battle of Puebla", Cinco de Mayo is a holiday celebrated by the Mexican army against France in the Puebla War of 182 against France during the Franco-Mexican War. While it is nothing more than a celebration in Mexico, the United States has celebrated Cinco de Mayo to recognize and recognition of Mexico's culture and heritage. The celebration includes brightly colored parades, lively costumes and clothes, festival music, drinks and smiles, and especially sizzling and delicious food.
Besides all of the things, people love food and drinks. Right? For this day they love to eat Mexican recipes like lunch, dinner, snacks, or Desserts. Americans countrywide celebrate with tacos and margarita's as well. For Mexican Americans, Cinco de Mayo is a day to celebrate their Mexican heritage. So Today I discuss some yummy and mouthwatering Mexican desserts that go well for Cinco De Mayo and also you can serve at a party.
To celebrate Cinco De Mayo What dishes are served?
During Cinco de Mayo, you can invite guests to your home or you might want to visit a local bar, or even get out on the street. If you are curious about what they are served at the Cinco de Mayo party, you will be surprised that their food selection is as colorful and lively as their celebration. You can discover a variety of authentic Mexican dishes as well as –
Tacos,
Tequila drinks,
Guacamole,
Jalapeno-mixed bites,
Any cheesy delight or refreshing salsas,
Pan-roasted vegetables,
Sweetbreads,
Margarita and many more.
In fact, you can make a lot of desserts that are still commemorating Mexican heritage. It can be as daring as a frozen margarita pie and as crunchy as some dessert-themed nachos, churros, and flans, etc. So no more wait to discuss some delicious dessert recipes that so tasty!
21. Mexican Paloma Cupcakes
Paloma cupcakes are a citrus-filled and lime flavored dessert, inspired by the crisp flavors of a Mexican Paloma cocktail – lime, grapefruit, and tequila. These are the perfect unexpected treat to expect guests for Cinco de Mayo or any summer fiesta!
20. Spiced Orange Tres Leches Cake
Let's celebrate with the traditional tres leches cake with a fruity, spicy twist. A fluffy sponge cake soaks up a trio of sweetened milk infused with fresh orange zest and warm spices, making each bite of this luscious spiced orange tres leches cake delicate yet full of moisture.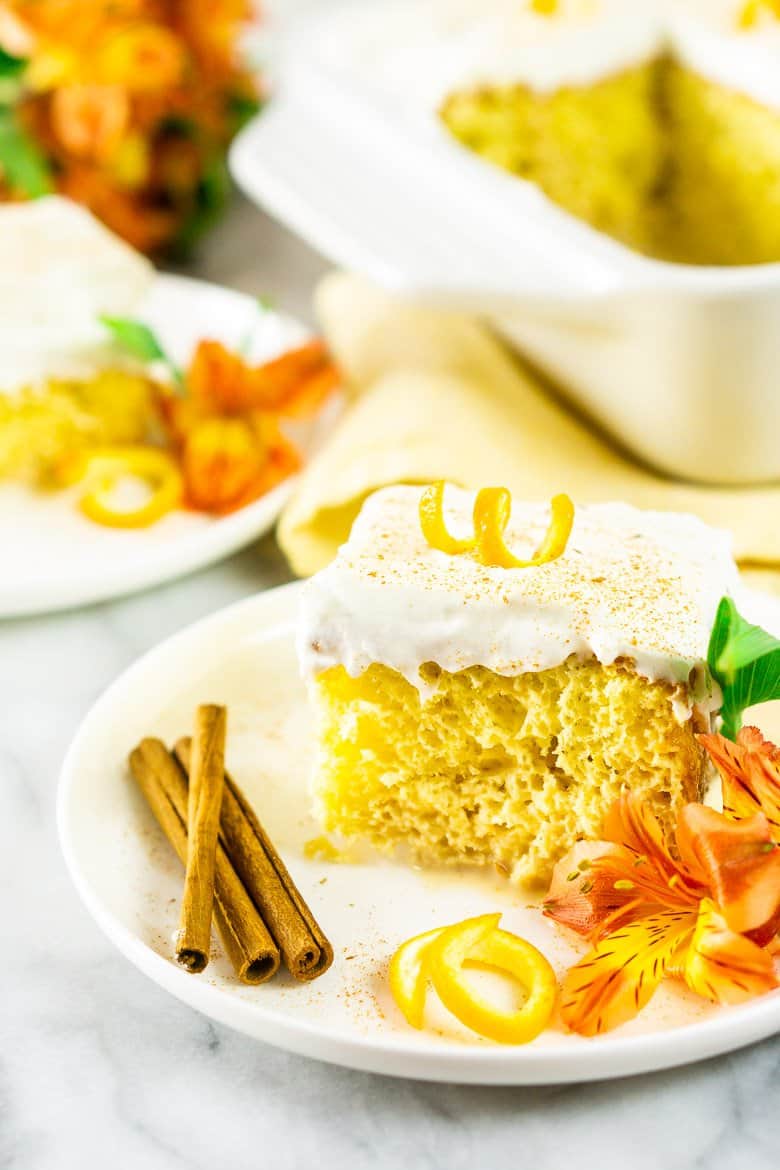 Check it
here
.
19. Mexican Chocolate Chip Cookies
The chocolate, cinnamon, and cayenne pepper just go so well together. That combination of flavors was the inspiration for these Mexican chocolate chip cookies. These soft and chewy chocolate chip cookies have extra oomph from cinnamon and cayenne pepper.
18. Mexican Chocolate Cake with Cinnamon Frosting
17. Sweet Tamale Recipe: Raspberry Dessert
16. Churro Cupcakes
These Churro Cupcakes are so moist cinnamon spiced cupcakes topped with luscious vanilla buttercream and garnished with a crispy baked churro. These are positively divine for any serious cinnamon lover, and they have the same churro taste like a sweet and fluffy cupcake.
Check it here.
15. Tres Leches Cake
Tres Leches Cake is a must-try Mexican dessert! It's a deliciously rich and moist, milk-soaked cake that always gets compliments every time it's served. It's sweet and refreshing, and even picky eaters love this Mexican cake! Perfect for a special taco Tuesday or even Cinco de mayo!
Check it
here
.
14. Margarita Bars
Mexican food and margaritas are a classic combo. So margarita bars for a Cinco de Mayo celebration are the perfect treat and also great for a summer party or summer dessert. These are made with tequila, and deliciously creamy with a hint of refreshing lime.
Margarita Bars
(Image: bijouxandbits)
Check it here.
13. Mexican Chocolate Cake
Make Easy Mexican Chocolate Cake for your next Fiesta! This dessert is slightly spicy, sweet, and chocolaty cake begins with a simple boxed chocolate cake mix and is just packed with a few ingredients that perfect ending to your Cinco de Mayo celebration!
Mexican Chocolate Cake
(Image: reneeskitchenadventures)
Check it here.
12. Mojito Key Lime Bars
Our Mojito Key Lime Bars is an easy recipe with a flavorful twist on traditional lime bars, made with lime juice and fresh mint combine to give our mojito inspired dessert is a great way to indulge in a sweet treat!
Mojito Key Lime Bars
(Image: swirlsofflavor)
Check it here.
11. Buñuelos (Mexican Fritters)
Bunuelos Mexican fritters are light, crispy, sweet, tortilla-like fritters fried to golden in color and drizzled with a homemade Piloncillo syrup and/ or sprinkled with cinnamon sugar. This Mexican recipe is a holiday perfect recipe that can also be enjoyed year-round as a dessert or snack!
Bunuelos
(Image: africanbites)
Check it here.
10. Mexican Hot Chocolate Fudge
This tasty Mexican Hot Chocolate Fudge recipe is one of my favorites go-to recipes all year long. Who loves chocolate this dessert is best for them and goes well for any kind of occasion.
Mexican Hot Chocolate Fudge
(Image: organizedisland)
Check it here.
9. Margarita Pie
Frozen Margarita Pie with a Pretzel Crust – wonderful light and creamy little salty with a slightly sweet dessert that is incredibly easy to make with just a few tasty ingredients. This is a must make for all your summer parties!
Margarita Pie
(Image: savingdessert)
Check it here.
8. Strawberry Cheesecake Chimichangas
This strawberry cheesecake chimichangas dessert recipe is made filled with a variety of savory fillings, such as pulled pork or beef, beans, rice, and cheese. But this dessert version stars a homemade strawberry cheesecake filling rolled inside flour tortillas. The stuffed tortillas go for a quick dunk in boiling oil and a final swish in cinnamon and sugar. This traditional cheesecake creates a nice flavor and perfect for Cinco de mayo Mexican desserts.
Strawberry Cheesecake Chimichangas
(Image: 
justataste)
Check it here.
7. Flan Napolitano
This Flan Napolitano is an egg-based custard cream cheese flan. So smooth, soft, and creamy with an incredibly rich in flavor. The layer of caramel sauce topping over and makes an impressive dessert best for Cinco de mayo.
Flan Napolitano
(Image: 
savorthebest)
Check it here.
6. Chocolate Brownies
The easy and best homemade Brownie is generally made in chocolate. A chocolate brownie is a square or rectangular shaped, chocolate baked treat. This Cakey Style fudge dark brownie is so soft, moist, and delicious for dessert that simple, gluten-free – how to make this recipe at home, check it out.
Chocolate Brownies
(Image: Crispyfoodidea)
Check it here.
5. Chocoflan Cake
Chocoflan cake is two layers in one dessert. A creamy flan on top of a rich chocolate cake. It is a great tasty and mouthwatering dessert that takes you to heaven. The cake is a fudgy chocolate butter cake and the flan is a cream cheese flan which is also called Flan Napolitano.
Chocoflan Cake
(Image: savorthebest)
Check it here.
4. Aztec Chocolate Zucchini Cake
Looking so delicious and tasty made with zucchini, chocolate, raspberry sauce, and few other ingredients that perfect Mexican desserts for Cinco de mayo.
Aztec Chocolate Zucchini Cake
(Image: 
sumptuousspoonfuls)
Check it here.
3. Mexican Fried Ice Cream
Fried Ice Cream Dessert is one of my favorite desserts ever! I always think that ice cream means that made with cream and that is cold but this recipe is totally different. Ice cream but baked! There's no deep-frying involved with this version, just a quick pan-fry to make the amazing crust that coats a dreamy, cinnamon ice cream combo! Try this now and break your thinking!
Mexican Fried Ice Cream
(Image: life-in-the-lofthouse)
Check it here.
2. Churro Lemon Cream Sandwiches
These Churro Lemon Cream Sandwiches are crispy churros, coated with cinnamon sugar on the outside and soft and pillowy on the inside, with a lemon whipped cream frosting in between. So tasty and yummy, I must say these are the ultimate Cinco de Mayo dessert.
Churro Lemon Cream Sandwiches
(Image: muybuenocookbook)
Check it here
1. Sopapilla Cheesecake Recipe
These cheesecake bars are the ever-popular, crowd-pleasing party dessert stacked with layers of crispy pastry, a buttery, cinnamon-sugar topping, and a thick and a drizzle of honey, filled with a sweet and fluffy smooth cream cheese center just a perfect Mexican dessert for celebrating any occasion.
Sopapilla Cheesecake Bars
(Image: cakescottage)
Check it here.
Some Delicious Desserts and Snacks that You'll Love!
Now choose which desserts are best for you and surprise your partner or family at this Cinco De Mayo Celebration. I hope you already choose that. Also, you can make these at home after seeing the preparation. To get more delicious recipes to subscribe to my blog and hit the notification so that all upcoming recipes you will get first while published. Share this recipe with all if you like this tutorial.
Follow me on Facebook | Twitter | Pinterest.
Do you like and Mexican inspired dessert and read it later?
SAVE this pin to your favorite board on PINTEREST!