The Traditional Mexican Tacos Recipe is just best ever amazing mouthwatering recipe that made with black beans, corns and other simple ingredients. Just ready within 20 minutes at home and serve hot with your families and others.
Let's Try something healthy and easy quick recipe, like – The Traditional Vegetarian Mexican Tacos Recipe.
These Mexican food are the easiest and quick tacos, home cook recipe! The black beans are briefly layered on the tortillas or tacos with any fruit salsa, spices, and garnished with lime juice and your favorite toppings. This is a vegetarian recipe that everyone will love very much!
Looking for a healthy casserole? Try this Potato casserole, chicken broccoli casserole, green beans casserole.
I get the recipe idea from this site.
These tacos are best for snack time and dinner too! These veg tacos are so delicious and made with pure vegs like black beans, corns, tomatoes, onions, taco seasoning, and other ingredients. Trust me, after taste this recipe you won't miss any meat. you will really fall in love.
Why you choose the Vegetable Tacos recipe at any time?
Tacos are an all-time favorite for me at any time like snack time, dinner and for holiday or on occasion too! But why? Let's see the secret!
Budget-friendly – the main components of vegetarian tacos are not so much costly and you can effort the number of vegetables to make the veg tacos.
Healthy Eating – Made with beans, corn, onions, tomatoes, and other simple ingredients that are so healthy and get nutrition too! Also, these authentic Mexican delicious tacos are totally gluten-free.
I know, you already thinking that –
Which vegetables can you put in Veg Mexican Tacos?
Beans – are protein-packed healthy vegetables that can add to this tacos recipe that will help you stay fuller for longer.
Corns – that are best with this recipe and for garnishing corns are best and so colorful and help the production of red blood cells in our body.
Cauliflower – you can use cauliflower for this recipe.
Tomatoes – are normally used in any dish that helps the recipe tasty.
Red onions or white onions – are rich in anthocyanins, which are powerful plant pigments that may protect against heart disease, certain cancers, and diabetes.
Avocados – using these tacos is healthy and flavorful too!
Mushroom – is good for health and adding this makes the recipe great.
Fruits – any kind of fruit you can use for this tacos vegetarian recipe.
What Topping Can I Use For Tacos Veg Recipe?
Apart from the avocado, tomatoes, and lettuce, you can try any of the following toppings:
Mayonnaise
Grated cheddar cheese
Sour cream
Greek Yogurt
Guacamole
Mexican Salsa
Freshly chopped vegetables (onion, cucumber, peppers, cauliflower, corns, carrot, etc)
Fresh lime wedges and cilantro
How to make Healthy Tradition Mexican Tacos Recipe?
Make the beans and corn for filling: Prepare the beans and corn with some seasoning and keep aside.
Make the tacos or tortillas: If you want to make the tacos or tortillas homemade, make it first and keep aside, or you can buy this from any food shop readymade.
Place the tacos and filling with beans, corns, onions, tomatoes. Now for garnish add mayonnaise, cheese, cilantro, jalapeño, garlic, lime juice, and chili powder and toss to combine. Season with salt to taste.
Now the recipe of Veg Mexican Tacos is ready to serve! 😋
Want to store leftover tacos?
Confuse? Don't worry… This vegetable Mexican Tacos will be store for 4 to 5 days in the freeze. Keep in mind that those tacos stored separately in covered containers. If you want to store a long time like 2 to 3 months in the freeze, then you should store the black beans mixture in air-tight containers.
Do you reheat the beans before serving?
Before serving the Veg Mexican Tacos Recipe, want to reheat the beans again? You can Reheat the beans in these ways –
Microwave – heat the beans for 30 seconds and serve with tacos hot!
Stove – Put the beans mixture in a pan over the stove on low flame and keep stirring for few minutes and serve.
Can you make low carb Mexican Veg Tacos Ahead of Time?
Tacos are the best and good side dish that made fresh and low carb taco recipes ahead of time. Most of the meats tacos and topping are good to be made ahead and for vegetable tacos, you can do the same. For this recipe, if you want, you can prepare the beans, corn ahead of time. Then when you want to serve, all the ingredients assemble together and serve it hot! this Mexican vegetarian tacos recipe is great for weekend night dinner or family-friendly parties.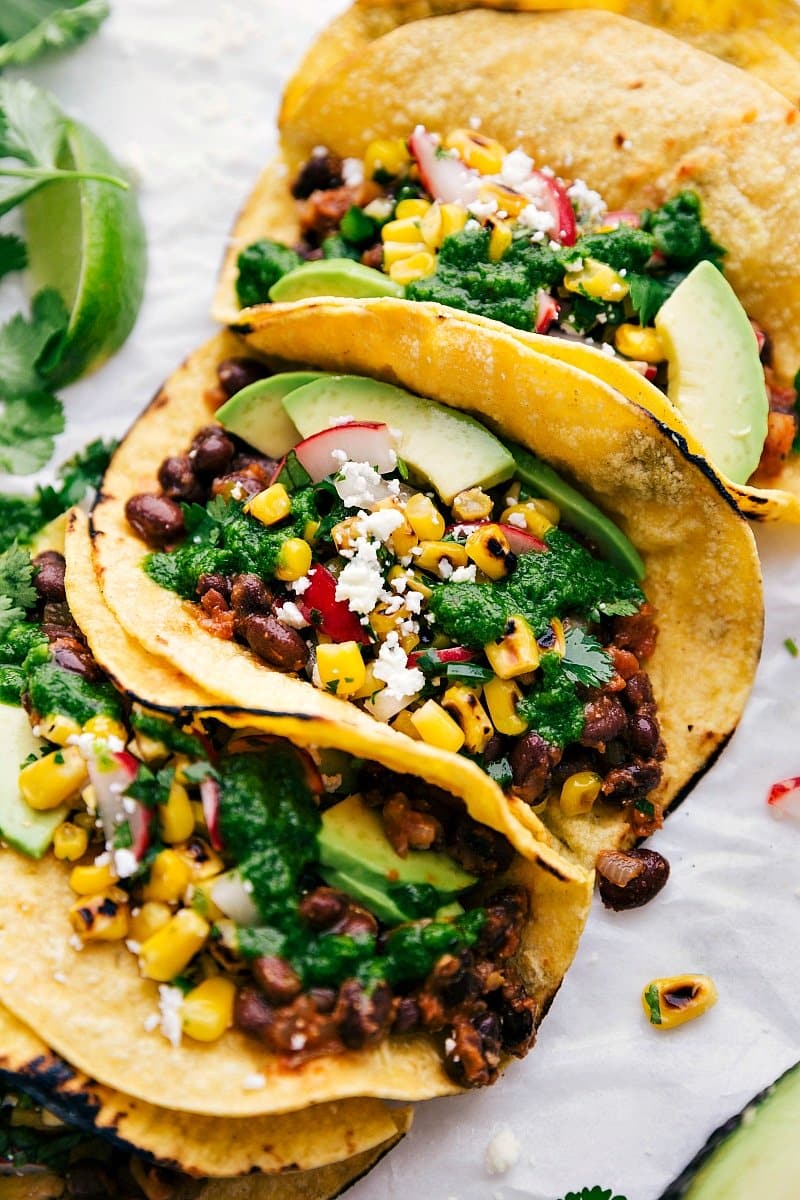 ---
Tradition Mexican Tacos Recipe
Vegetarian Mexican tacos are so easy to make with a few simple vegan ingredients and ready in just 20 minutes of meal prep. These traditional tacos are best for meal prep or snacks. Serve with lemon juice, cilantro, and some chopped onions.
Ingredients  
1

tbsp

Olive Oil

1

tbsp

Mayonnaise

2

tbsp

Feta Cheese

crumbled

¼

cup

Cilantro

chopped

½

cup

Greek Yogurt

optional

1

tsp

Cumin

1

nos.

Jalapeno

minced

1

clove

Garlic

minced

1

tbsp

Lime Juice

¼

tbsp

Chili Powder

1

bowl

Creamy Avocado Dip

Check the recipe

Salt

as per taste

Black Pepper Powder

as for taste

1/2

cup

Cabbage

shredded (optional)

2

cup

Corn

2

cup

Black Beans

drained and rinsed (optional)
For Tacos
250

grams

Flour

wheat flour/ refined flour
For Garnish or Serving
½

cup

Lettuce

½

cup

Mexican Blend Cheese

⅓

cup

Cherry Tomato

diced

½

cup

Cabbage

shredded

¼

cup

Onion

chopped
Instructions 
Making the tortillas or Mexican tacos
Take a large bowl and add maize flour. Or you can make from regular refined flour tortillas too!

Now add maida (all-purpose flour) to it. Maida is used for binding the dough together.

Now add some oil for crispiness. Add salt for taste.

Squeeze or knead the dough with adding water. And keep in mind that the dough is not so much hard and not so much soft.

Split the dough into small equal pieces or cut thinly sliced dough whatever you want into the equal portion.

Now time to roll the dough, take a rolling board and take some flour and roll the dough one by one into a 75mm or 3-inch diameter thin circle.

Prick the tortilla evenly with the fork to avoid puffing up the tortilla.

Heat oil in a non-stick pan or Kadai or skillet over medium-high heat.

Deep fry the tacos or tortillas in the oil and fry these until its crispy and golden brown in color.

Drain these in an absorbent pepper and keep aside.
Prepare the beans for Vegetable Mexican Tocos
Take 2 cups of kidney beans, wash it, and soak the beans in enough water for a couple of times or 8 to 9 hours or overnight.

After soaking the beans drain the water and wash it again in the running water. Now time to add the beans in a pressure cooker with adding the salt. Pour in 2 cups of water. Close the lid and cook for 15 to 18 minutes on medium flame.

After 18-20 minutes open the lid of the cooker and check out the kidney beans. If you see the beans are completely cooked, mash the beans by pressing them easily. and drain the excess water from the beans and keep aside.

Now the beans are ready to cook for Mexican Tacos.

Heat some oil in a pan, add chopped garlic, saute the garlic for few seconds till its aroma comes out.

Now add finely chopped onions and saute on a medium-low flame till they become translucent.

Now time to add kidney beans and add water as required, add salt and cook these until it turns into a boil.

When beans mixture comes to a boil, take a masher and mash the beans. At this point, turn off the flame and cool down the beans.

Then all this mixture pour it into a blender and mix well and see what consistency you need.

Add black pepper, chili powder, cumin powder, and dried oregano (if needed).

On a low to medium-low flame continue to stir and simmer beans for 5 to 6 minutes till it thickens. You can add some water if the mixture is so dry and thicker. When done keep it aside.
Prepare the corn for Veg Mexican Tacos
First heat oil in a large non-stick pan or skillet.

Take 2 cups of frozen corns and saute in a pan or skillet for few minutes with adding salt (if you want to add some chili powder, black pepper, and some cumin powder) and mix well. Cook for 2 minutes.

Toss and stir the corn occasionally and keep aside.
Assemble the traditional Mexican Tacos Recipe
Prepare the sliced onions, cooked beans, cooked corns, avocado dip, and tacos, all are ready now.

Reheat the tortillas again if you want to, Now place the tortillas to prepare the recipe.

To assemble the Mexican healthy tacos, spread the bean mixture in the center of the tacos. Top the avocado dip over the mixture and onions too.

Add some corns over the top and garnish with add mayonnaise, cheese, cilantro, jalapeño, garlic, lime juice, and chili powder and toss to combine. Season with salt to taste.

Now the vegetable Mexican tacos are ready to serve hot!
Notes
To save your time you can buy ready-made tacos from a food shop.
If you take fresh beans, the fresh beans are cooked faster than old beans. If the beans are old, then they take a lot of time to cook.
You can also add vegetable stock instead of water.
Use tomato salsa or any kind of salsa for topping to make the recipe delicious and flavorful. Refrigerated salsa can be used if you want to.
To make the vegetable Mexican tacos for a vegetarian I use beans and corn, you can use other vegetables whatever you like.
How to make Avocado Dip for Tacos Filling Recipe
Avocado cream sauce or avocado dip takes just a few minutes to make! This creamy dip is so tasty that you can add this on top to chicken, beef, fish, or any spicy Mexican dish like tacos.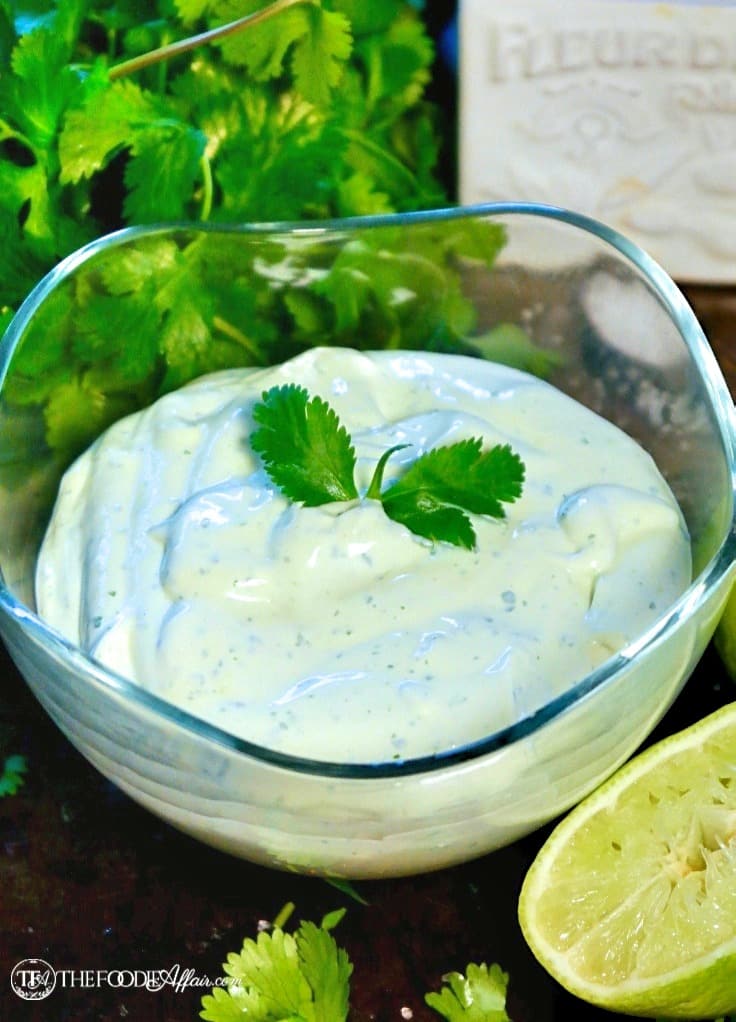 Creamy avocado dip (Image: thefoodieaffair)
Ingredients for creamy Avocado Dip
½ cup (1 small) avocado
½ cup plain Greek yogurt
2 tbsp lime juice
½ cup cilantro leaves
salt and pepper as per taste
olive oil
Preparation:
First, take a food processor or grinder, add avocados, cilantro, lime juice, and chilled fresh yogurt.
Second, mix it until it turns creamy and smooth.
Third, drizzle with Olive Oil and season with salt and pepper.
Forth, again blend it and if it seems too thick, add some olive oil to thinner.
Fifth, taste and add more salt if needed. Enjoy right away.
To know more about this recipe check out
here
.
Nutrition Facts

Amount Per Serving
Calories 454 kcal from Fat 171, Fat 19g29%, Cholesterol 81mg27%, Sodium 790mg34%, Potassium 526mg15%, Carbohydrates 37g12%, Fiber 1g4%, Sugar 3g3%, Protein 31g62%, Vitamin A 270IU5%, Vitamin C 5.4mg7%, Calcium 123mg12%, Iron 2.8mg16%
* Percent Daily Values are based on a 2000 calorie diet.
As I mentioned first that you can make vegetarian tacos in many ways, I give you some ideas of Mexican tacos recipe in various ways – 
Instant Pot Vegetarian Lentil Tacos
These Instant Pot Lentil Tacos are quick and easy to make!
Instant Pot Lentil Tacos (Image: peasandcrayons)
Check out this recipe here.
Spicy Mango, Black Bean, and Avocado Tacos Recipe
These sweet & spicy mango tacos are a great vegetarian weeknight dinner, try now!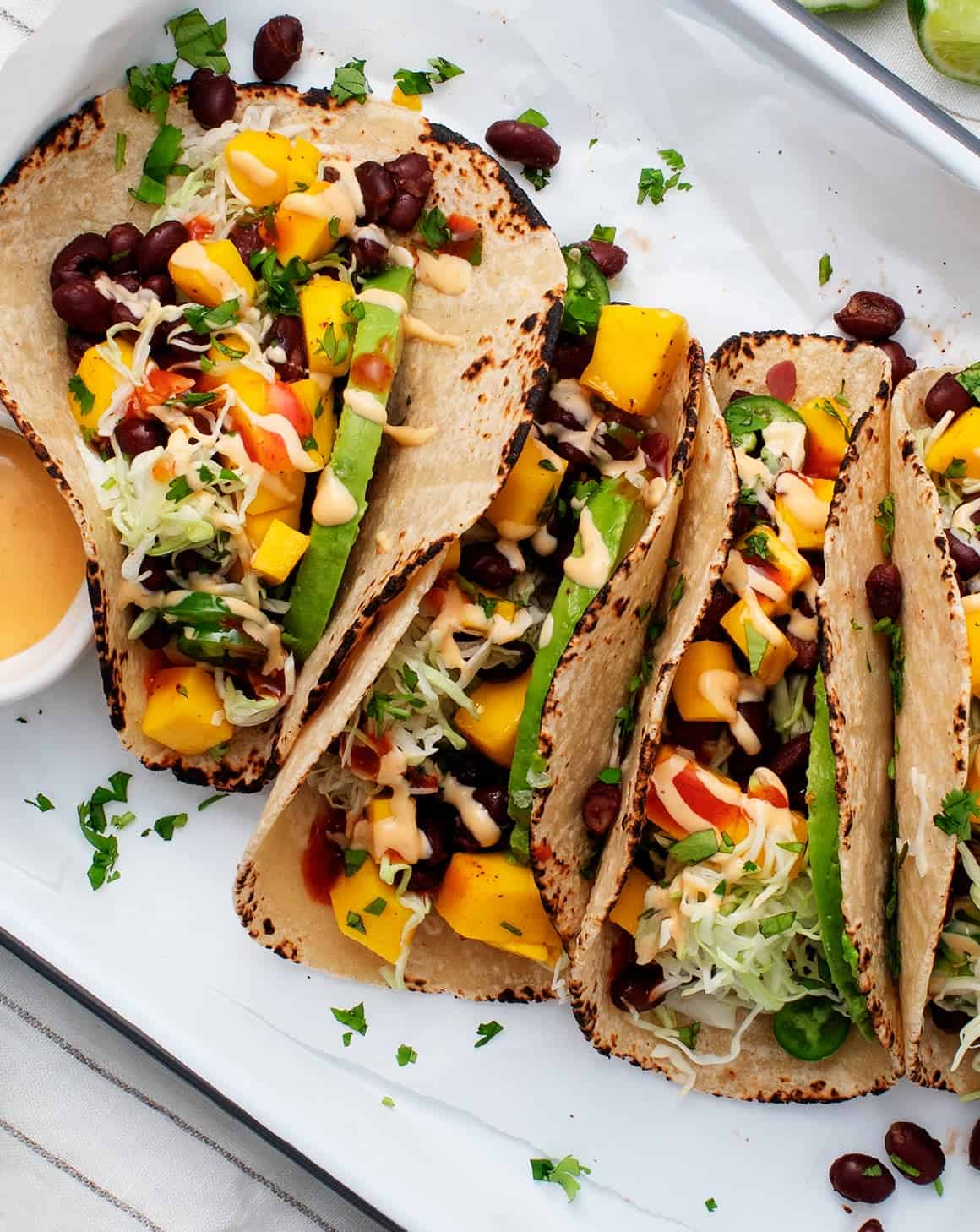 Mango avocado beans tacos (Image: loveandlemons)
Check out this recipe
here
.
For this tacos recipe, you can make this recipe with veg and non-veg like beef tacos, ground beef, flank steak or skirt steak, etc. But here I make these tacos with all types of choice-able vegetables. You can use any kind of veggies whatever you like.
To know more ways of vegetarian Mexican tacos recipes wait for my next article and will choose your best recipe and make it at home, serve your family and friends, and impress them.
If you like that recipe share this with all so that they will learn how to make that recipe. You can subscribe to my site so that all upcoming recipes you'll get first when published. Try this easy and healthy recipe tacos vegetarian and enjoy the night!
If you want to read the recipe again and later. SAVE this pin below on your favorite board on Pinterest!