These are healthy easy to make immune-boosting foods and recipes that make you strong inside and gives you lots of vitamins and nutrition in any condition. You can get all vegetables, fruits, fish, meat-related recipes, and drinks to boost your immune system naturally.  
During these times of increased focus on immune health, in the situation we are surviving there are many germs affected us, and lots of people even kids are suffering from infections and germs. So if we have immunity power naturally, then they are not affected or harm us. Right? Today I'm talking about and discuss and sharing immune-boosting foods recipes with you.
Before I go to those recipes, you already think of some relative questions in your mind. Here I'm to solve some questions that you already think. Don't think too much and take a look below –
Before we jump into the recipes, you think 1st that –
What are the fruits or vegetables or you can say immune-boosting foods that you can start adding to your diet if you haven't already or keep your health strong and healthy?
Vegetables like
Broccoli – Broccoli is also packed with phytochemicals and antioxidants.
Garlic – Garlic contains compounds that help the immune system fight germs.
Turmeric – Curcumin, a compound found in turmeric is known to have anti-inflammatory properties that help boost immunity.
Red Bell Pepper – Surprisingly, it contains even more Vitamin C than Citrus Fruits!
Ginger – Ginger contains tons of vitamins, some of which are magnesium, iron, zinc, and calcium.
Spinach – Spinach is not only rich in vitamin C but also packed with numerous antioxidants and beta carotene.
Sweet Potatoes – Sweet potatoes are rich in beta carotene which converts into vitamin A. This vitamin boosts the immune system and reduces the risk of various diseases.
[More like Cauliflower, Brussels sprouts, leafy greens vegetables, etc.]
Citrus Fruit – Contains a load of Vitamin C.
Fruits like Lemon, Lime, orange, pineapple etc.
Mushrooms– rich in B vitamins, zinc, selenium, and known for their immune-enhancing properties.
Chicken and fish (get fatty acids, fat-soluble vitamin) also regulate your healthy immune system (in medical advice).
Now come to the drinks, drinks made by the home that boost your immune system genuinely. But are you think that which drinks and what kind of drinks I'm talking about?
See homemade any kind of juices or liquid basis that comes from the plant is always good for health. And plant-based foods and drinks increase our immunity power and keep safe our health and help to grow our strength in our body. So here are some examples of drinks that you can easily make which are exceptionally helpful in boosting your immune system:
Milk is also a great source because it contains allergy and infection-fighting nutrients like probiotics and vitamin D.
Natural fruit juices like watermelon, berries, apples, and citrus fruits like orange, lemon, and grapefruit are rich in nutrients and vitamins A, B, and C which are known to help strengthen the immune system.
Tomato juice is also another great option as it is rich in folate which helps lower your risk of getting infections. It also is rich in Vitamins A, C, and iron.
Ginger tea is full of antioxidants and vitamins that are good for your immune system and immune cells. Furthermore, gingers can help increase blood circulation, white blood cells, and get an immune response.
So Now go to those immune system booster food recipes that make you strong and healthy all the time and help to boost your immune system naturally. 
---
25. Ginger Turmeric Lemon Tea
This easy turmeric tea recipe is made with simple and fresh ingredients. Ginger, honey, and lemon combine with spices to create an anti-inflammatory hot drink that helps to boost your immune system. Perfect if you are fighting a common cold or want to soothe a sore throat. Full of health benefits and great for a detox. Ready to drink in less than 5 minutes.
Check it here.
---
24. Easy Instant Pot Chicken Noodle Soup
Instant pot chicken noodle soup is a comforting, go-to meal for the cold months ahead. Only 15 minutes of preparation time, and you're rewarded with a cozy, delicious bowl of soup, kid-friendly, and the perfect chicken soup to eat when you are sick.
Get the recipe here.
---
Related: Chicken and Dumplings, 27 Instant Pot Recipes.
---
23. Orange Turmeric Booster Shot
Ginger turmeric shots with lemon, cayenne, and orange are the perfect booster shot for any time to boost your immune system. Made with other powerful ingredients orange juice, turmeric, ginger, cloves, lemon verbena leaves, cinnamon stick with a touch of honey. These wellness shots have powerful anti-inflammatory and immune-boosting properties!
Get the recipe here.
---
22. Beet Hummus
Beets are known for being rich in natural nitrates. This beet hummus is a perfect example to boost your immune system naturally. A beautiful 2-step beet hummus for non-beet lovers that can be made in less than 10 minutes. Oil-free and flavored with garlic, lemon, and tahini. Great for dipping veggies, topping salads, and spreading on sandwiches.  
  Get the recipe here.
---
21. Thyme Herbal Tea
The thyme herb tea benefits have been known for ages. Drinking this magical tea may provide relief for many ailments. Make the switch from coffee! This tea is good for health and gets lots of nutrition too!
Get the recipe here.
---
20. Healing Quinoa Vegetable Soup
This Healing Quinoa Vegetable Soup is full of anti-inflammatories and energetic boosting recipes. Along with ginger, turmeric, tomatoes, spinach, garlic, rosemary, and quinoa in this soup work as anti-inflammatories to create a healing soup that is appetizing and substantial.
Get the recipe here.
---
Suggested: Creamy Broccoli Cheddar Soup
---
19. Elderberry Syrup
Elderberry syrup is an easy, all-natural, immunity-boosting home remedies that studies have shown can help shorten the effects of the flu. This elderberry syrup recipe uses the Instant Pot so that your syrup is ready in under an hour!
Get the recipe here.
---
18. Green Smoothie Immunity Boost Recipe
Are you looking for a healthy easy weight loss and breakfast smoothie recipe? Easy green smoothie loaded with almond milk, frozen fruits, and spinach or kale, the best meal replacement, and the keto-friendly recipe just ready with 15 minutes. Get lots of protein and nutrients from this healthy yummy smoothie recipe, also good for kids too! This smoothie also a fat-burning recipe…  
Get the recipe here.
---
Delicious Trending Recipes Must Try!
Canned / Packaged Meals Recipes 
Pantry Meals
Meal Prep Recipes for weight loss
---
17. Golden Milk or Haldi Doodh
Golden Milk Turmeric Latte or you can say Haldi Doodh which is Vegan and Dairy-Free. Cozy up with a warm mug of golden milk to fight off the cold, flu, and, inflammation. Immune-boosting recipe.
Get the recipe here.
---
16. Lemon Turmeric Energy Balls
Soft and citrusy, these Lemon Turmeric Energy Balls are just amazing. They are loaded with flavor and powerful SUPERFOODS – healing spice turmeric and nutritious chia seeds. These immune-boosting, added-sugar-free power balls are rich in fibers and plant-based proteins. Perfect healthy snack.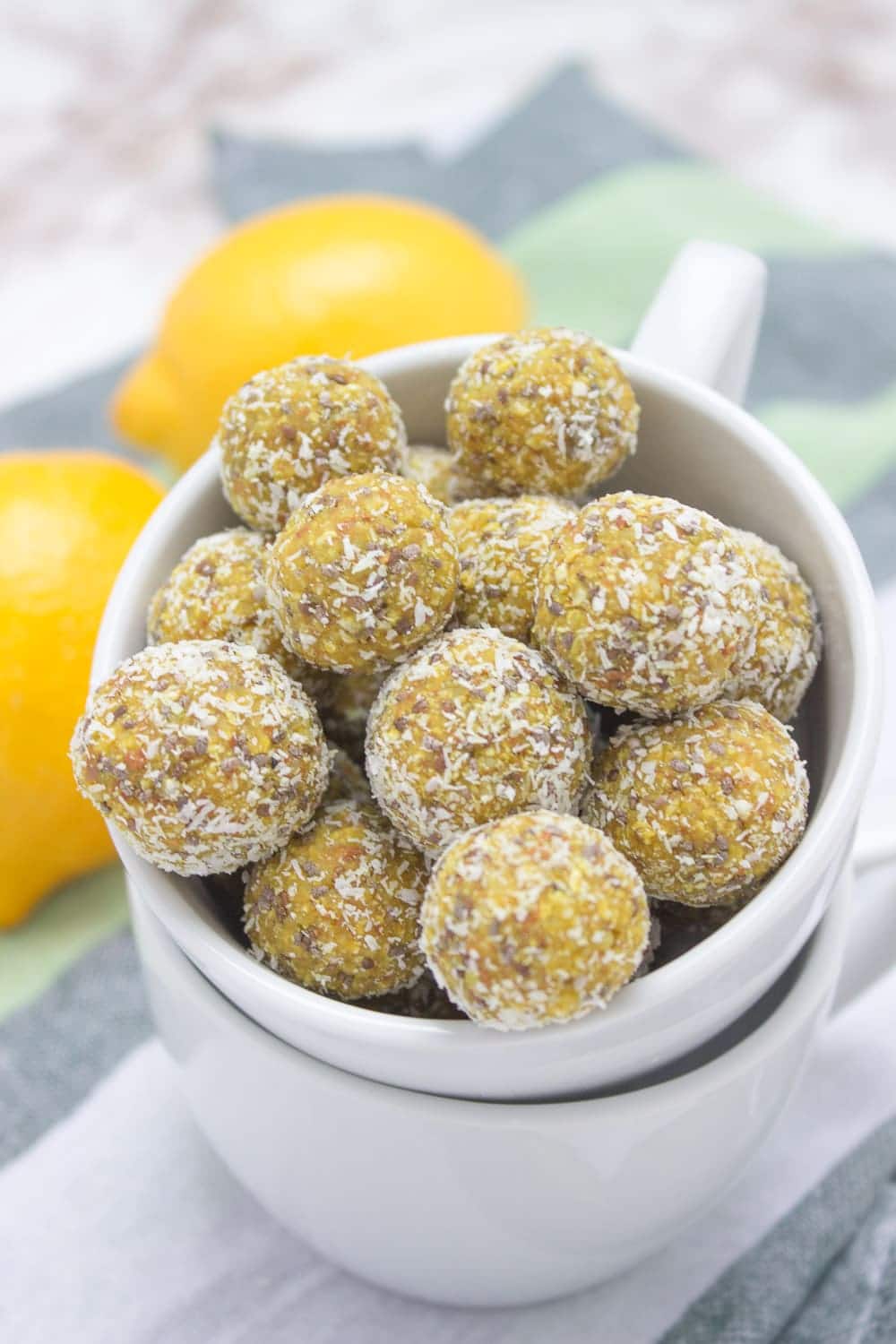 Get the recipe here.
---
Suggested: Immunity Boosting Citrus Recipes
---
15. Ginger Coconut Carrot Soup
This incredible Coconut Ginger Carrot Soup is so easy to make and has the most amazing, slightly sweet, and perfectly spiced flavour. If you love flavors like coconut and ginger, you're going to love this filling, nourishing, vegan carrot soup.
Here are some healthy weight watchers soup recipes that you will love.
Get the recipe here.
---
14. Immune-Boosting Orange Banana Smoothie
This Immune-Boosting Orange Banana Smoothie is so creamy and delicious packs a hefty dose of Vitamin C! Also nourishing and healthy refreshing orange flavor with a hint of vanilla!
Get the recipe here.
---
Suggested: Banana Smoothie
---
13. Golden Milk Gummies
  If you want a fun way to get in your golden milk, give these golden milk gummies a try. They're tasty, easy to eat and picky husband/kid approved!
Get the recipe here.
---
12. One Pot Vegetarian Minestrone Soup
Easy Minestrone Soup Recipe! Minestrone soup is a healthy and delicious soup that makes with lots of vegetables and it gives you protein and nutrition. A delicious vegan recipe and simple to customize with gluten-free and low carb options.
Get the recipe here.
---
11. Immune-Boosting Tropical Breakfast Bowl
This quick & easy to make Immune-Boosting Tropical Breakfast Bowl is packed with nutrition from immune-boosting superfoods that are high in vitamins, minerals & antioxidants, and good-for-you probiotics. Made with dairy-free coconut milk yogurt, this recipe is vegan, paleo, and AIP-friendly.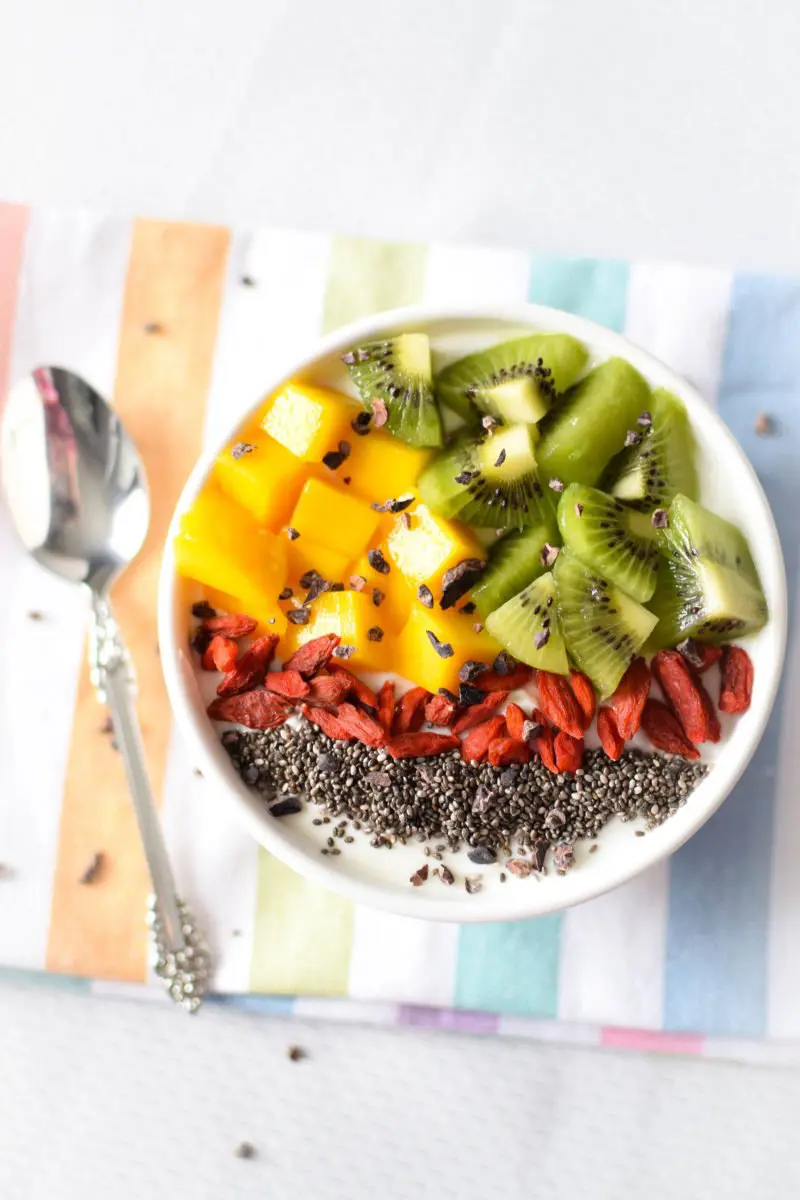 Get the recipe here.
---
10. Carrot Juice Recipe with Orange and Ginger
This Orange Carrot Ginger Juice is an incredibly refreshing and healthy juice to have at breakfast. This blend of fruit and vegetables gives you a juice that is mild to medium sweetness, with a Lil zinger from the ginger.
  Get the recipe here.
---
9. Turmeric Carrot Muffins with Chia and Coconut
Vegan Turmeric Carrot Muffins. These sunshine muffins have carrots, dry or fresh turmeric, fresh ginger, and chia seeds. Coconut rounds up the flavor for a caramelized carrot ginger turmeric profile along with cardamom, cinnamon, nutmeg. Add nuts to these Turmeric muffins. No added sugar or oil needed. Vegan Soy-free Nut-free Recipe. Gluten-free option.
Get the recipe here.
---
More Related Recipes:
---
8. Kale Apple Green Smoothie
Kale Apple Green Smoothie requires only 5 ingredients and 5 minutes to prepare. Even the kids will love this delectable smoothie. This is the perfect recovery drink because it's filled with tons of essential vitamins and nutrients. There's nothing better when you're feeling crummy after eating too much the night before.
Get the recipe here.
---
Suggested: 19 Weight Watchers Smoothie Recipes
---
7. Potato Chickpea Salad – Immunity Boosting Recipe
Sweet Potato Chickpea Salad – A simple and healthy filling vegan and gluten-free lunch or dinner; made with red onions, parsley, and a tangy lemon dressing. Check out another healthy salad recipes.
Get the recipe here.
---
Here are some delicious Potato Related Recipes that You'll like –
---
6. Ginger Turmeric Vanilla Cookies
These healthy golden ginger turmeric cookies are flour free and easy to make. This cookie recipe is low sugar with the sweetness coming from bananas. Perfect with cashew vanilla frosting for a decadent dairy-free cookie. These turmeric cookies are suitable for vegans, plant-based, refined sugar-free, wheat-free, whole food, and general healthy diets. The cookies contain oats but you can use gluten-free oats if you're following a gluten-free diet.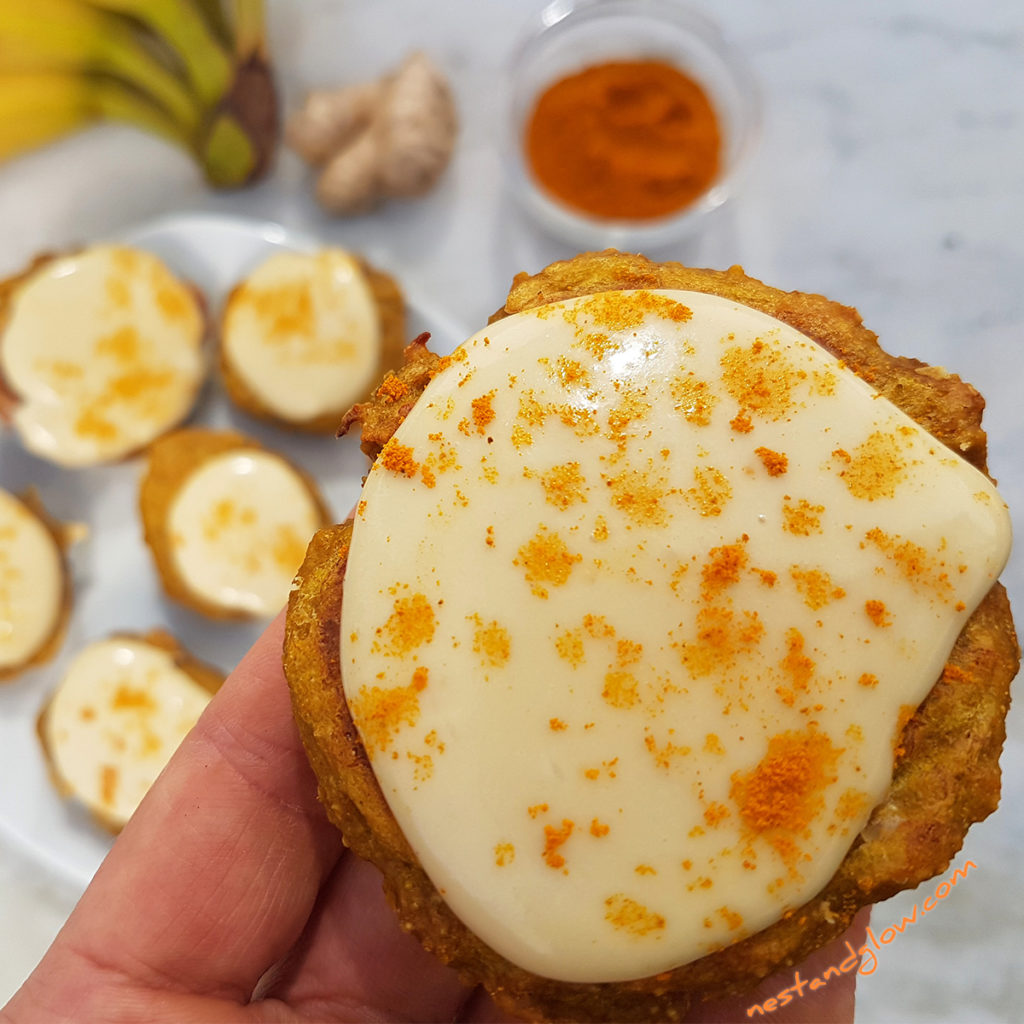 Get the recipe here.
---
5. Herbal Healing Broth
This vegan garden herb stock is a recipe you will definitely want to make again and again. While each of the herbs in this recipe does help create a flavourful stock for meal bases, they also possess powerful antimicrobial, diaphoretic, or antiinflammatory actions, making this an effective immune system tonic. Easy to make, vegan, sodium-free, and nutrient-dense!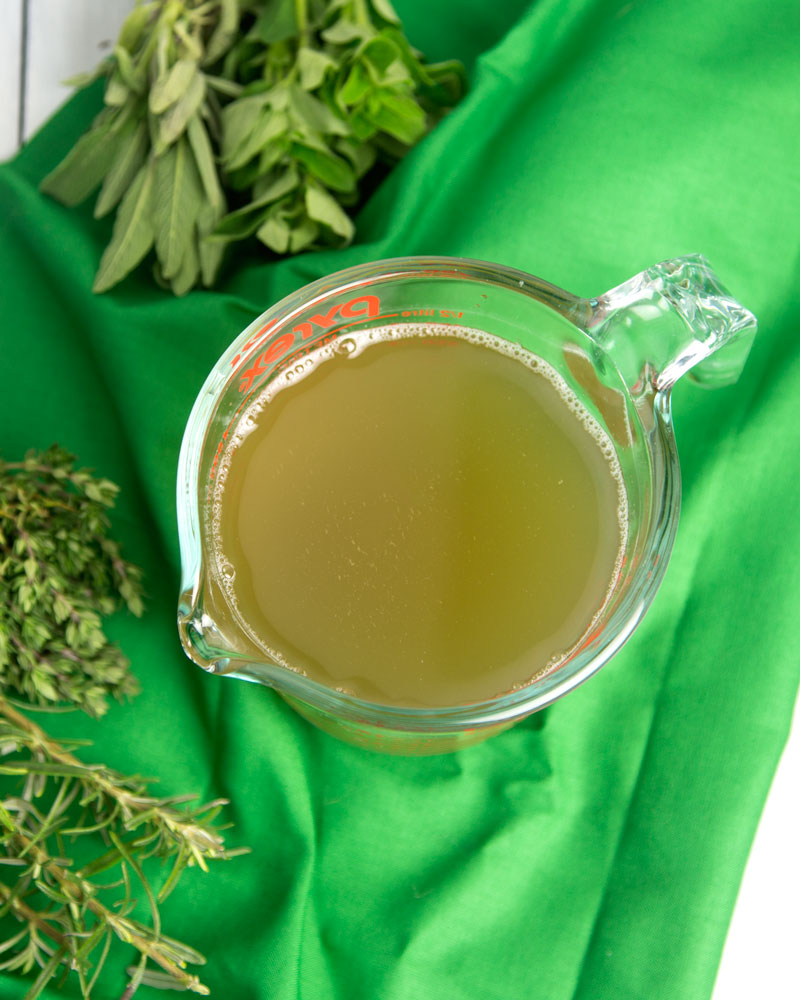 Get the recipe here.
---
Trending Recipe: 22 Vegan Air Fryer Recipes
---
4. Lemon Garlic Chicken with Broccoli
Creamy Garlic Chicken with Broccoli is a household favorite for everyone in the family. This is the perfect one-pot chicken recipe with a homemade creamy garlic sauce when you're in need of something delicious, satisfying, and easy for a weeknight dinner. Add your choice of pasta or rice to soak up all the delicious creamy garlic sauce.
Get the recipe here.
---
Related: Keto Chicken and Broccoli Casserole, Roasted Parmesan Broccoli
---
3. Homemade Cold Tonic
Homemade Cold Tonic combines different aromatic spices to keep you hydrated, boost your immune system, and possibly prevent cough and cold.
Get the recipe here.
---
2. Easy Chana Masala
This easy healthy Instant pot chana masala recipe is best for a side dish with roti, rice, etc. This Indian food totally vegan and you can cook in the slow cooker, crockpot. Here you get step by step Punjabi spicy chana masala recipe.
Get the recipe here.
---
1. Sheet Pan Orange Glazed Salmon and Broccolini
This Sheet Pan Orange Glazed Salmon and Broccolini is a flavorful weeknight dinner with minimal clean-up. It's made with delicious, fresh ingredients, including orange and lemon juices, honey, sage, and sea salt.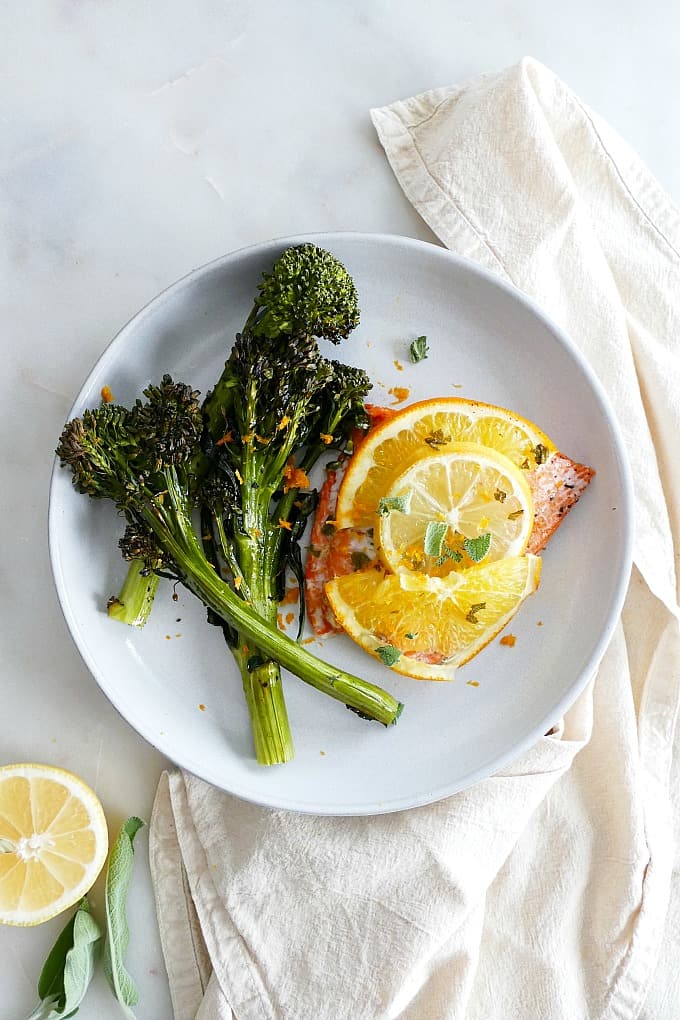 Get the recipe here.
---
So these recipes are so healthy and help to boost the Immune system in your body in any condition. If your like these recipes keep share with all and want more recipes like this to subscribe to my blog and hit the notification so that all upcoming recipes you will get first while published.
SHARING IS CARING!
FOLLOW ME ON FACEBOOK | TWITTER | PINTEREST
Did you like these recipes and make it later at home? SAVE this pin to your favorite board on Pinterest.